2021 Buick Envision Preview
2021 Buick Envision Preview
Christian Wardlaw | May 29, 2020
FAST FACTS
Redesigned premium compact crossover SUV
Turbocharged 2.0-liter 4-cylinder engine
9-speed automatic transmission
Front-wheel or all-wheel drive
Available in Avenir trim for the first time
Numerous standard and optional safety systems
New infotainment technology with 10-inch display
On sale in early 2021
With the cancelation of the Regal Sportback and Regal TourX wagon, the 2021 Buick lineup will contain nothing but SUVs. And just in time to capitalize on the brand's historic shift away from traditional cars, the redesigned 2021 Buick Envision suggests they won't be missed.
Aside from a handful of photos and facts, Buick isn't divulging many details about the all-new 2021 Envision, promising more information closer to the SUV's arrival in early 2021. But based on what the company is saying and showing, this premium compact SUV might finally make a big splash in its segment.
Explore car shopping guides
10 Most Popular Midsize SUVs and Crossovers
Families flock to midsize SUVs for their seating capacity, cargo capability, and available all-wheel-drive systems. This guide provides an overview of the 10 most popular, non-luxury midsize SUVs and crossovers in America.
Read the full review
10 Most Popular Luxury Cars
During economic boom times, luxury cars are more popular–especially those on the lower end of the pricing spectrum. But that isn't always the case. This guide contains the 10 best-selling luxury car models in America.
Read the full review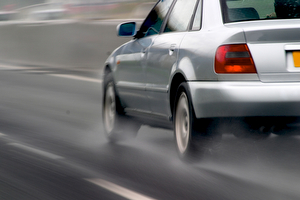 Warning Signs You Need New Brakes
They may not be something you think about very often, but your vehicle's brakes are one feature that should always be in top working condition. Let's look at how to know when you need new brakes.Look, listenThere are two ways to check for brake wear on disc brakes: by looking and by listening. First, check for wear by looking at your brake pads through the spaces between the wheel's spokes. The outside pad will be pressed against a metal rotor. Generally, there should be at least 1/4 inch of pad. If you see less than 1/4 inch of pad, you may want to have your brake pads inspected or replaced.
Read the full review