2013 Porsche Boxster Preview
2013 Porsche Boxster Preview
Jeff Youngs | Mar 06, 2012
FAST FACTS
First complete redesign of the Boxster since original launch
Longer wheelbase, wider track, lighter weight
New Porsche Torque Vectoring technology
Boxster S accelerates to 60 mph in 4.5 seconds with Sport Chrono package, according to Porsche
Exterior FeaturesThough it looks similar to the previous Boxster, the new 2013 Porsche Boxster is completely redesigned and features a longer wheelbase combined with a wider track. The body is constructed of aluminum, shaving 56 pounds from the base curb weight and allowing the Boxster to weigh in at 2,889 pounds in standard trim, according to Porsche. A spoiler that automatically deploys and retracts depending on vehicle speed separates new LED taillights, and the power convertible top opens and closes in less than 10 seconds at speeds up to 31 mph, the automaker says.
Explore car shopping guides
10 Most Popular Midsize SUVs and Crossovers
Families flock to midsize SUVs for their seating capacity, cargo capability, and available all-wheel-drive systems. This guide provides an overview of the 10 most popular, non-luxury midsize SUVs and crossovers in America.
Read the full review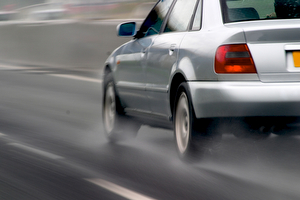 Warning Signs You Need New Brakes
They may not be something you think about very often, but your vehicle's brakes are one feature that should always be in top working condition. Let's look at how to know when you need new brakes.Look, listenThere are two ways to check for brake wear on disc brakes: by looking and by listening. First, check for wear by looking at your brake pads through the spaces between the wheel's spokes. The outside pad will be pressed against a metal rotor. Generally, there should be at least 1/4 inch of pad. If you see less than 1/4 inch of pad, you may want to have your brake pads inspected or replaced.
Read the full review
Most Reliable Crossovers and SUVs in 2017
According to J.D. Power, these are the crossovers and SUVs that are expected to provide the best reliability over time.
Read the full review