2013 Mazda CX-5 Preview
Jeff Youngs | Mar 08, 2012
FAST FACTS
New compact crossover SUV that replaces discontinued Tribute
Showcases Mazda's new Skyactiv engineering philosophy, emphasizing lightweight construction and fuel-efficient engines
Introduces new "Kodo" design language
Exterior FeaturesThe 2013 Mazda CX-5 is the first model to feature the automaker's new "Kodo" design theme, which will ultimately characterize all future Mazdas. Translated, "Kodo" means "Soul of Motion," according to Mazda.
Explore car shopping guides
10 Most Popular Midsize SUVs and Crossovers
Families flock to midsize SUVs for their seating capacity, cargo capability, and available all-wheel-drive systems. This guide provides an overview of the 10 most popular, non-luxury midsize SUVs and crossovers in America.
Read the full review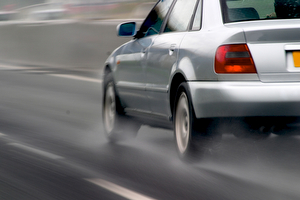 Warning Signs You Need New Brakes
They may not be something you think about very often, but your vehicle's brakes are one feature that should always be in top working condition. Let's look at how to know when you need new brakes.Look, listenThere are two ways to check for brake wear on disc brakes: by looking and by listening. First, check for wear by looking at your brake pads through the spaces between the wheel's spokes. The outside pad will be pressed against a metal rotor. Generally, there should be at least 1/4 inch of pad. If you see less than 1/4 inch of pad, you may want to have your brake pads inspected or replaced.
Read the full review
Most Reliable Crossovers and SUVs in 2017
According to J.D. Power, these are the crossovers and SUVs that are expected to provide the best reliability over time.
Read the full review