2019 Initial Quality: New-Vehicle Quality Stalls After Four Years of Improvement
2019 Initial Quality:
New-Vehicle Quality Stalls After Four Years of Improvement
Philly Murtha | Jun 19, 2019
New-vehicle initial quality in 2019 remains unchanged from 2018, marking the first year without improvement since 2014, according to the J.D. Power 2019 U.S. Initial Quality StudySM (IQS). Despite matching last year's best-ever overall initial quality industry average of 93 problems per 100 vehicles (PP100), only 13 of 31 brands ranked in the study improve their initial quality performance, while 18 decline.
It's notable, however, that for a second straight year, three South Korean brands—Genesis, Kia, and Hyundai—advance again in U.S. new-vehicle initial quality rankings and earn six of 22 segment awards for models with the fewest problems. Ford, Lincoln, and Chevrolet round out the top six in the nameplate rankings.
Now in its 32nd year, J.D. Power's annual IQS measures problems experienced by original buyers and lessees of 2019 model-year vehicles during the first 90 days of ownership. The study covers 233 potential design and defect/malfunction problems grouped into eight categories, with lower problem incidence indicating higher quality.
In summing up the 2019 IQS findings, Dave Sargent, Vice President of Global Automotive at J.D. Power, said, "Automakers continue to make progress in areas like infotainment. Some traditional problems, however, crept up this year including paint imperfections, brake and suspension noises, engines not starting, and the 'check engine' light coming on early in the first months of ownership." He adds that more owners are having issues with their advanced driver-assistance systems, which is "critical to building consumer trust in future automated vehicles."
Explore car shopping guides
10 Most Popular Midsize SUVs and Crossovers
Families flock to midsize SUVs for their seating capacity, cargo capability, and available all-wheel-drive systems. This guide provides an overview of the 10 most popular, non-luxury midsize SUVs and crossovers in America.
Read the full review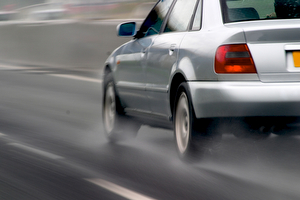 Warning Signs You Need New Brakes
They may not be something you think about very often, but your vehicle's brakes are one feature that should always be in top working condition. Let's look at how to know when you need new brakes.Look, listenThere are two ways to check for brake wear on disc brakes: by looking and by listening. First, check for wear by looking at your brake pads through the spaces between the wheel's spokes. The outside pad will be pressed against a metal rotor. Generally, there should be at least 1/4 inch of pad. If you see less than 1/4 inch of pad, you may want to have your brake pads inspected or replaced.
Read the full review
Most Reliable Crossovers and SUVs in 2017
According to J.D. Power, these are the crossovers and SUVs that are expected to provide the best reliability over time.
Read the full review