Vehicle Dependability Improves for Second Year in a Row
Vehicle Dependability Improves for Second Year in a Row
Christian Wardlaw | Feb 13, 2019
Following half a decade of steady declines in vehicle dependability, the J.D. Power 2019 U.S. Vehicle Dependability StudySM (VDS) shows overall industry improvement for the second year in a row. In the 2018 study, overall vehicle dependability improved 9%. This year, the industry improves by 4%, to an average of 136 problems per 100 vehicles (PP100).
"Vehicles are more reliable than ever, but automakers are wrestling with problems such as voice recognition, transmission shifts, and battery failures," said Dave Sargent, Vice President of Global Automotive at J.D. Power. "Flawless dependability is a determining factor in whether customers remain loyal to a brand, so manufacturers need to help customers who are currently experiencing vehicle problems and address these trouble spots on future models."
Now in its 30th year, the annual VDS measures problems experienced by original owners of 3-year-old vehicles during the past 12 months. The study covers 177 specific problems grouped into eight categories. This year, the study measured the dependability of 2016 model-year vehicles.
Explore car shopping guides
10 Most Popular Midsize SUVs and Crossovers
Families flock to midsize SUVs for their seating capacity, cargo capability, and available all-wheel-drive systems. This guide provides an overview of the 10 most popular, non-luxury midsize SUVs and crossovers in America.
Read the full review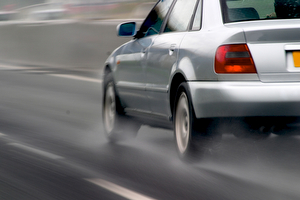 Warning Signs You Need New Brakes
They may not be something you think about very often, but your vehicle's brakes are one feature that should always be in top working condition. Let's look at how to know when you need new brakes.Look, listenThere are two ways to check for brake wear on disc brakes: by looking and by listening. First, check for wear by looking at your brake pads through the spaces between the wheel's spokes. The outside pad will be pressed against a metal rotor. Generally, there should be at least 1/4 inch of pad. If you see less than 1/4 inch of pad, you may want to have your brake pads inspected or replaced.
Read the full review
Most Reliable Crossovers and SUVs in 2017
According to J.D. Power, these are the crossovers and SUVs that are expected to provide the best reliability over time.
Read the full review