2017 U.S. Initial Quality Study: New Car Quality at an All-Time High
2017 U.S. Initial Quality Study:
New Car Quality at an All-Time High
Joseph Dobrian | Jun 21, 2017
Customer satisfaction with the quality of new vehicles is at its highest level ever, according to the J.D. Power 2017 U.S. Initial Quality StudySM (IQS). In this year's study, quality improves across seven of the eight categories measured, with 27 of the 33 brands in the study improving their quality compared with 2016. Overall customer satisfaction with new vehicles is up 8% from last year's study.
Initial quality is reported as the number of problems experienced per 100 vehicles (PP100) during the first 90 days of ownership, with a lower score reflecting higher quality.
17iqs_article_v3.jpg
"Automotive manufacturers are responding to consumer feedback and producing vehicles of the highest quality," said Dave Sargent, vice president, global automotive at J.D. Power. "The industry has improved significantly in each of the past three years. Today's vehicles have more things that could go wrong but fewer things that actually do go wrong."
Explore car shopping guides
10 Most Popular Midsize SUVs and Crossovers
Families flock to midsize SUVs for their seating capacity, cargo capability, and available all-wheel-drive systems. This guide provides an overview of the 10 most popular, non-luxury midsize SUVs and crossovers in America.
Read the full review
10 Most Popular Luxury Cars
During economic boom times, luxury cars are more popular–especially those on the lower end of the pricing spectrum. But that isn't always the case. This guide contains the 10 best-selling luxury car models in America.
Read the full review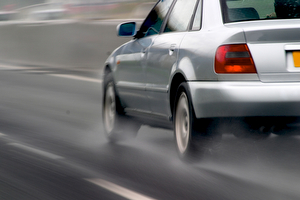 Warning Signs You Need New Brakes
They may not be something you think about very often, but your vehicle's brakes are one feature that should always be in top working condition. Let's look at how to know when you need new brakes.Look, listenThere are two ways to check for brake wear on disc brakes: by looking and by listening. First, check for wear by looking at your brake pads through the spaces between the wheel's spokes. The outside pad will be pressed against a metal rotor. Generally, there should be at least 1/4 inch of pad. If you see less than 1/4 inch of pad, you may want to have your brake pads inspected or replaced.
Read the full review