2017 U.S. Vehicle Dependability Study: Excellent Long-Term Quality Isn't Exclusive to Luxury Brands
2017 U.S. Vehicle Dependability Study:
Excellent Long-Term Quality Isn't Exclusive to Luxury Brands
Joseph Dobrian | Feb 22, 2017
While it is generally true that in order to get the latest safety and technology features or cutting-edge design, car buyers need to shop the luxury brands, the same principle does not necessarily apply when it comes to vehicle dependability. According to the J.D. Power 2017 U.S. Vehicle Dependability StudySM (VDS), long-term quality isn't exclusive to luxury brands.
The Vehicle Dependability Study, now in its 28th year, examines problems experienced during the past 12 months by original owners of 3-year-old vehicles. The study determines overall dependability by examining the number of problems experienced per 100 vehicles (PP100), with a lower score reflecting higher quality. The 2017 study examines cars, trucks, minivans, and SUVs from the 2014 model year and covers 177 specific problems grouped into eight major vehicle categories:
Exterior
Engine/Transmission
Audio/Communication/Entertainment/Navigation (ACEN)
Interior
The Driving Experience
Features/Controls/Displays (FCD)
Heating/Ventilation/Air Conditioning (HVAC)
Seats
The study finds that the 10 top-selling models from the 2014 model year average 134 PP100—significantly lower than the industry average of 156 PP100. Two perennial best-selling models—the Ford F-150 pickup truck and the Toyota Camry sedan—also lead their vehicle segments in the 2017 VDS.

"We find buyers are increasingly avoiding models with poor reputations for dependability, so manufacturers can't afford to let quality slip, particularly on their best sellers" said Dave Sargent, vice president, global automotive at J.D. Power. "While many expensive and niche vehicles do have excellent quality, the fact is that most consumers are shopping in the high-volume mainstream segments. The good news is that you don't have to spend a lot of money to get a very dependable vehicle."

Also of note, the study finds that long-term quality is a key factor in contributing to higher residual values for vehicles.

"In the current industry environment of record levels of leasing and long-term loans, higher residual values allow automakers to provide more competitive deals to buyers," said Jonathan Banks, vice president of vehicle analysis and analytics at J.D. Power. "This creates the opportunity to achieve higher market share and/or elevated profit margins."
Explore car shopping guides
10 Most Popular Midsize SUVs and Crossovers
Families flock to midsize SUVs for their seating capacity, cargo capability, and available all-wheel-drive systems. This guide provides an overview of the 10 most popular, non-luxury midsize SUVs and crossovers in America.
Read the full review
10 Most Popular Luxury Cars
During economic boom times, luxury cars are more popular–especially those on the lower end of the pricing spectrum. But that isn't always the case. This guide contains the 10 best-selling luxury car models in America.
Read the full review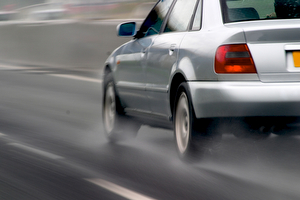 Warning Signs You Need New Brakes
They may not be something you think about very often, but your vehicle's brakes are one feature that should always be in top working condition. Let's look at how to know when you need new brakes.Look, listenThere are two ways to check for brake wear on disc brakes: by looking and by listening. First, check for wear by looking at your brake pads through the spaces between the wheel's spokes. The outside pad will be pressed against a metal rotor. Generally, there should be at least 1/4 inch of pad. If you see less than 1/4 inch of pad, you may want to have your brake pads inspected or replaced.
Read the full review