2013 APEAL Study Results
2013 APEAL Study Results
Jeff Youngs | Jul 24, 2013
J.D. Power 2013 U.S. Automotive Performance, Execution and Layout (APEAL) StudySM
detailed findings may be used by manufacturers who are working on designs for more appealing vehicles and want to know the impressions that their current products are making on customers. Published findings may serve as a guide for car shoppers who are contemplating a new-vehicle purchase.
The
APEAL Study
, now in its 18th year, was completely revised for 2013: updated to better measure the appeal of today's vehicles, particularly with respect to the new technologies and features now being offered. Participants in the study are owners and lessees of new vehicles
, who evaluate their purchases across 77 attributes. Based on verified owner responses, each car, truck, SUV or van model receives an overall APEAL score (based on a 1,000-point scale). Models are further grouped into vehicle segments, so that models of a similar type may be compared, i.e., the APEAL score of one premium car can be compared with other premium cars.
J.D. Power has completely redesigned its study that serves as the industry benchmark for new-vehicle appeal.
Explore car shopping guides
10 Most Popular Midsize SUVs and Crossovers
Families flock to midsize SUVs for their seating capacity, cargo capability, and available all-wheel-drive systems. This guide provides an overview of the 10 most popular, non-luxury midsize SUVs and crossovers in America.
Read the full review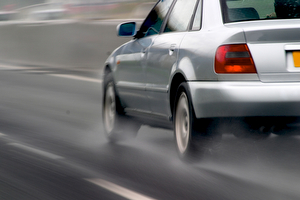 Warning Signs You Need New Brakes
They may not be something you think about very often, but your vehicle's brakes are one feature that should always be in top working condition. Let's look at how to know when you need new brakes.Look, listenThere are two ways to check for brake wear on disc brakes: by looking and by listening. First, check for wear by looking at your brake pads through the spaces between the wheel's spokes. The outside pad will be pressed against a metal rotor. Generally, there should be at least 1/4 inch of pad. If you see less than 1/4 inch of pad, you may want to have your brake pads inspected or replaced.
Read the full review
Most Reliable Crossovers and SUVs in 2017
According to J.D. Power, these are the crossovers and SUVs that are expected to provide the best reliability over time.
Read the full review