Top-Rated 2018 Minivans in Quality
Top-Rated 2018 Minivans in Quality
Philly Murtha | Jun 20, 2018
The J.D. Power Initial Quality StudySM (IQS), measures owner satisfaction with the quality of new vehicles during the first 90 days of ownership. The IQS, now in its 31st year, has become the standard to evaluate a vehicle's quality in terms of the number of owner-reported design and defect problems. This year's IQS is based on responses from more than 75,000 original car, truck, SUV and minivan owners.

To help consumers research and shop for their next new vehicle, J.D. Power has developed a system of user-friendly Power Circle ratings based on IQS findings to provide an easy-to-use graphic for overall initial quality.
This buyer's guide highlights the top-rated minivans (midsize vans) for 2018. Each of the four models earns 4 or 5 out of a possible 5 Power Circles for initial quality.
Explore car shopping guides
10 Most Popular Midsize SUVs and Crossovers
Families flock to midsize SUVs for their seating capacity, cargo capability, and available all-wheel-drive systems. This guide provides an overview of the 10 most popular, non-luxury midsize SUVs and crossovers in America.
Read the full review
10 Most Popular Luxury Cars
During economic boom times, luxury cars are more popular–especially those on the lower end of the pricing spectrum. But that isn't always the case. This guide contains the 10 best-selling luxury car models in America.
Read the full review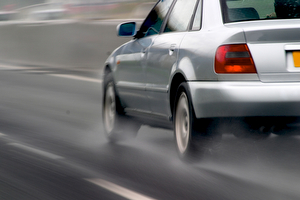 Warning Signs You Need New Brakes
They may not be something you think about very often, but your vehicle's brakes are one feature that should always be in top working condition. Let's look at how to know when you need new brakes.Look, listenThere are two ways to check for brake wear on disc brakes: by looking and by listening. First, check for wear by looking at your brake pads through the spaces between the wheel's spokes. The outside pad will be pressed against a metal rotor. Generally, there should be at least 1/4 inch of pad. If you see less than 1/4 inch of pad, you may want to have your brake pads inspected or replaced.
Read the full review