2018 New Car Appeal Shows Biggest Improvement in History
2018 New Car Appeal Shows Biggest Improvement in History
Joseph Dobrian | Jul 25, 2018
Auto enthusiasts rejoice! According to the latest edition of the
J.D. Power U.S. Automotive Performance, Execution and Layout (APEAL) Study,SM
car owners' satisfaction with the performance and design of their new vehicles is at its highest level ever. In fact, new car appeal in 2018 experiences the greatest year-over-year increase in the history of the
APEAL Study
.
In this year's study, the industry average APEAL score increases to 820 points (on a 1,000-point scale) from 810 in 2017, with significantly higher scores in all 10 of the study's evaluation categories. Of the 31 rank-eligible brands included in the study, 23 gain in customer satisfaction from 2017.
18apeal_article.jpg
"The automotive industry is performing exceptionally well, with manufacturers making record-breaking improvements year over year," said Dave Sargent, Vice President, Global Automotive at J.D. Power. "It's a great time to buy a new car or truck. There are a lot of high-quality, appealing vehicles in every segment of the market and shoppers don't have to spend a fortune to get one."
The APEAL Study measures owners' emotional attachment and level of excitement across 77 attributes, ranging from the power they feel when they step on the gas to the sense of comfort and luxury they feel when climbing into the driver's seat.
Explore car shopping guides
10 Most Popular Midsize SUVs and Crossovers
Families flock to midsize SUVs for their seating capacity, cargo capability, and available all-wheel-drive systems. This guide provides an overview of the 10 most popular, non-luxury midsize SUVs and crossovers in America.
Read the full review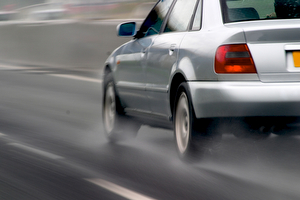 Warning Signs You Need New Brakes
They may not be something you think about very often, but your vehicle's brakes are one feature that should always be in top working condition. Let's look at how to know when you need new brakes.Look, listenThere are two ways to check for brake wear on disc brakes: by looking and by listening. First, check for wear by looking at your brake pads through the spaces between the wheel's spokes. The outside pad will be pressed against a metal rotor. Generally, there should be at least 1/4 inch of pad. If you see less than 1/4 inch of pad, you may want to have your brake pads inspected or replaced.
Read the full review
Most Reliable Crossovers and SUVs in 2017
According to J.D. Power, these are the crossovers and SUVs that are expected to provide the best reliability over time.
Read the full review