Top-Rated 2012 Sedans: Performance & Design
Top-Rated 2012 Sedans:
Performance & Design
Jeff Youngs | Jun 14, 2013


The annual J.D. Power Automotive Performance, Execution and Layout StudySM (APEAL) is designed to measure consumer sentiment about the design and the performance of the new vehicles that survey respondents have purchased and owned for at least 90 days, reflecting recognition that customer satisfaction is about more than just vehicle quality or dependability. Each year, tens of thousands of people share their thoughts about how their new vehicle performs, how it looks and feels, how the controls and features function, how comfortable the seats are, and more. Included in this 2012 Sedans buyer's guide are those models, listed in alphabetical order, which receive the highest overall ratings in the 2012 APEAL Study.
A midsize luxury sedan, the 2012 Audi A6 is completely redesigned this year, taking its styling cues from the smaller Audi A4 and larger Audi A8. Audi A6 2.0T models are equipped with a turbocharged, 2.0-liter 4-cylinder engine and front-wheel drive (FWD), and are offered with Premium or Premium Plus trim. The A6 3.0T models receive a supercharged, 310-horsepower, 3.0-liter V-6 engine and Quattro all-wheel drive (AWD). In addition to Premium and Premium Plus trim, the A6 3.0T is available in a Prestige trim level.

Updates for the new A6 include the latest version of Audi's Multi-Media Interface (MMI) technology, which includes a handwriting-recognition touch pad. The A6's Audi Connect service provides mobile Wi-Fi for up to 8 devices, as well as Google Earth and Google Local Search with the capability to store up to 50 Google Earth locations on the car's hard drive.

Additionally, the 2012 Audi A6 is offered with 4-zone automatic climate control, a 1,300-watt premium audio system, and a configurable head-up display. Safety features include Audi PreSense Plus, Audi Braking Guard, Audi Side Assist, and an adaptive cruise control system with stop-and-go capability. A Night Vision Assistant system is also available, and provides pedestrian-detection technology.
Explore car shopping guides
10 Most Popular Midsize SUVs and Crossovers
Families flock to midsize SUVs for their seating capacity, cargo capability, and available all-wheel-drive systems. This guide provides an overview of the 10 most popular, non-luxury midsize SUVs and crossovers in America.
Read the full review
10 Most Popular Luxury Cars
During economic boom times, luxury cars are more popular–especially those on the lower end of the pricing spectrum. But that isn't always the case. This guide contains the 10 best-selling luxury car models in America.
Read the full review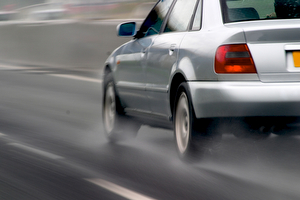 Warning Signs You Need New Brakes
They may not be something you think about very often, but your vehicle's brakes are one feature that should always be in top working condition. Let's look at how to know when you need new brakes.Look, listenThere are two ways to check for brake wear on disc brakes: by looking and by listening. First, check for wear by looking at your brake pads through the spaces between the wheel's spokes. The outside pad will be pressed against a metal rotor. Generally, there should be at least 1/4 inch of pad. If you see less than 1/4 inch of pad, you may want to have your brake pads inspected or replaced.
Read the full review