Digital Communication Leads to Higher Satisfaction with New-Vehicle Sales Process
Digital Communication Leads to Higher Satisfaction with New-Vehicle Sales Process
Philly Murtha | Nov 14, 2018
It's no surprise that consumers prefer digital communication—especially text messages—built into their new-vehicle shopping and purchase experience, according to the latest J.D. Power U.S. Sales Satisfaction Index (SSI) Study.SM The 2018 study includes customer evaluations of 32 rank-eligible brands in two segments (14 luxury brands and 18 mass-market nameplates).
The 2018 study is based on responses from nearly 26,000 buyers who purchased or leased their new vehicle in April or May of this year and examines experiences of those consumers who shop at dealerships but purchase elsewhere.
Overall satisfaction with the new-car sales experience this year averages 823 (on a 1,000-point scale). Most significantly, sales satisfaction increases by 19 points to 839 points for customers who texted with their selling dealer vs. those consumers who did not (820).
Although auto dealerships are slowly moving toward more frequent digital communication during the sales process, Chris Sutton, vice president of the Automotive Retail Practice at J.D. Power, says, "As the consumer base includes more younger consumers, shoppers expect dealers to pick up the pace for incorporating texting and e-mailing into the day-to-day-sales process because this is how younger consumers engage."
Explore car shopping guides
10 Most Popular Midsize SUVs and Crossovers
Families flock to midsize SUVs for their seating capacity, cargo capability, and available all-wheel-drive systems. This guide provides an overview of the 10 most popular, non-luxury midsize SUVs and crossovers in America.
Read the full review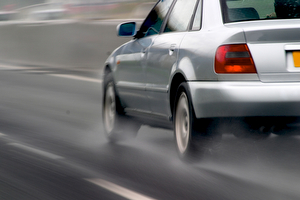 Warning Signs You Need New Brakes
They may not be something you think about very often, but your vehicle's brakes are one feature that should always be in top working condition. Let's look at how to know when you need new brakes.Look, listenThere are two ways to check for brake wear on disc brakes: by looking and by listening. First, check for wear by looking at your brake pads through the spaces between the wheel's spokes. The outside pad will be pressed against a metal rotor. Generally, there should be at least 1/4 inch of pad. If you see less than 1/4 inch of pad, you may want to have your brake pads inspected or replaced.
Read the full review
Most Reliable Crossovers and SUVs in 2017
According to J.D. Power, these are the crossovers and SUVs that are expected to provide the best reliability over time.
Read the full review