2014 U.S. Sales Satisfaction Index (SSI) Study Results
2014 U.S. Sales Satisfaction Index (SSI) Study Results
Jeff Youngs | Nov 13, 2014

Dedicated product specialists are becoming a more important part of the sales process at many vehicle dealerships, largely in response to customers' reaction to the advanced technology features with which many new vehicles are equipped. Overcoming customers' feelings of intimidation with regard to the latest technology is an important part of vehicle sales, according to the recently released J.D. Power 2014 U.S. Sales Satisfaction Index (SSI) Study.SM

The study, now in its 28th year, measures satisfaction with the sales experience among new-vehicle buyers and rejecters (those who shop a dealership and purchase elsewhere). The study measures buyer satisfaction based on four factors (in order of importance): working o
ut the deal (17%); salesperson (13%); delivery process (11%); and facility (10%). Rejecter satisfaction is based on five factors (in order of importance): salesperson (21%); fairness of price (8%); experience negotiating (8%); variety of inventory (7%); and facility (7%). Overall sales satisfaction improves by 13 points (on a 1,000-point scale) year-over-year, to 686 from 673 in 2013.
Salesperson, Product Specialists Team Up
Industry-wide, 15% of customers indicate they worked with both a salesperson and a separate product specialist when shopping for their vehicle. This percentage is slightly higher among buyers of premium vehicles (19%) than among those purchasing non-premium vehicles (15%). Regardless of segment, overall sales satisfaction is slightly higher among buyers who work with a product specialist than among those who work only with a salesperson (856 vs. 853, respectively, for premium vehicles; 809 vs. 806, respectively, for non-premium).

"With such tech-heavy vehicles today, introducing product specialists into the sales process helps improve the delivery process and customer understanding of how to operate key features," said Chris Sutton, vice president of the automotive retail practice at J.D. Power. "Dealerships need to be mindful when dividing a customer's time between a salesperson, product specialist, and the finance and insurance representative. That's a lot of customer touch points. Adding more time to the sales process usually has a negative effect on sales satisfaction; thus, dealers need to ensure an integrated approach that respects a customer's time."

Other key highlights of the study include:
Working with both a salesperson and product specialist is becoming more commonplace among new-vehicle buyers. When a customer works with both a salesperson and a product specialist, satisfaction with thoroughness of feature explanation improves to 8.1 (on a 10-point scale) from 7.9.
The most important key performance indicator (KPI) in the sales process is the salesperson's ability to completely understand the customer's needs. Car buyers that participated in the study indicate that salespeople met that KPI 86% of the time. Further, meeting that KPI improves overall satisfaction by up to 104 points.
The use of a computer/tablet in communicating the price and payment options helps drive satisfaction with working out the deal (784 vs. 770 in 2013). Satisfaction among customers who are shown pricing/payment on a computer screen/tablet is higher (827) than among those who receive this information in printed form (805), by verbal quotes (774), or as handwritten figures (764).
Explore car shopping guides
10 Most Popular Midsize SUVs and Crossovers
Families flock to midsize SUVs for their seating capacity, cargo capability, and available all-wheel-drive systems. This guide provides an overview of the 10 most popular, non-luxury midsize SUVs and crossovers in America.
Read the full review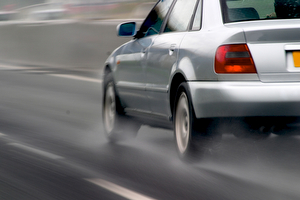 Warning Signs You Need New Brakes
They may not be something you think about very often, but your vehicle's brakes are one feature that should always be in top working condition. Let's look at how to know when you need new brakes.Look, listenThere are two ways to check for brake wear on disc brakes: by looking and by listening. First, check for wear by looking at your brake pads through the spaces between the wheel's spokes. The outside pad will be pressed against a metal rotor. Generally, there should be at least 1/4 inch of pad. If you see less than 1/4 inch of pad, you may want to have your brake pads inspected or replaced.
Read the full review
Most Reliable Crossovers and SUVs in 2017
According to J.D. Power, these are the crossovers and SUVs that are expected to provide the best reliability over time.
Read the full review