2021 Hyundai Santa Fe Preview
2021 Hyundai Santa Fe Preview
Christian Wardlaw | Jun 03, 2020
Just two years after a complete redesign, changes to the 2021 Hyundai Santa Fe improve the SUV's appearance, quality, and technology. Expect modifications under the midsize 5-passenger crossover SUV's hood, too, though official details for the U.S. market remain unknown.
Hyundai is calling the 2021 Santa Fe a redesign, but in reality it is a restyling of the existing vehicle. The new look is most evident in front, where T-shaped daytime running lights bisect a wide grille with integrated headlights. The look is more dramatic, and as seen on the top trim level, gives the Santa Fe a more upscale appearance.
Redesigned wheels sized up to 20 inches in diameter are available, and the 2021 Santa Fe's gray bodyside cladding is painted body color with the highest trim level. Around back, the bumper juts out more, adding visual length to the SUV. Wide connected taillights, a broad reflector strip, and a reshaped skid plate motif help to emphasize the Santa Fe's width.
Hyundai says the new Santa Fe has a more upscale interior with greater use of soft-touch materials and revised color and trim combinations. Additionally, the Santa Fe will offer an available 12.3-inch digital instrumentation cluster and a 10.25-inch infotainment system display.
Moving to a shift-by-wire transmission allows Hyundai to eliminate a traditional gear selector and replace it with buttons like those found in the larger Palisade. A new center console divides the front seats, offering more storage space and providing the real estate for the stereo, climate, and driving mode controls.
When optioned with all-wheel drive, the Santa Fe features new Terrain Mode technology, adding Sand, Snow, and Mud settings to the existing Eco, Sport, Comfort, and Smart driving modes.
Engine details for the U.S. market remain unknown, but in global markets the new Santa Fe will come in both hybrid and plug-in hybrid electric vehicle versions.
Since the Santa Fe shares its underlying platform with the new 2020 Sonata, don't be surprised if the SUV arrives with the same 191-horsepower 2.5-liter 4-cylinder as standard equipment and an optional hybrid powertrain with a similar combined horsepower rating. A performance-tuned N-Line variant might also be in the works.
Hyundai expects to finalize 2021 Santa Fe details in the coming weeks, and we will update this article at that time.
The information in this article is from Hyundai, with some speculation on the author's part. It was accurate as of June 3, 2020 but may have changed since that date.
Explore car shopping guides
10 Most Popular Midsize SUVs and Crossovers
Families flock to midsize SUVs for their seating capacity, cargo capability, and available all-wheel-drive systems. This guide provides an overview of the 10 most popular, non-luxury midsize SUVs and crossovers in America.
Read the full review
10 Most Popular Luxury Cars
During economic boom times, luxury cars are more popular–especially those on the lower end of the pricing spectrum. But that isn't always the case. This guide contains the 10 best-selling luxury car models in America.
Read the full review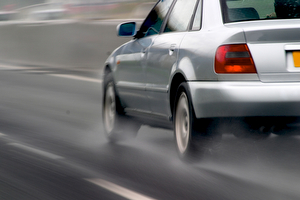 Warning Signs You Need New Brakes
They may not be something you think about very often, but your vehicle's brakes are one feature that should always be in top working condition. Let's look at how to know when you need new brakes.Look, listenThere are two ways to check for brake wear on disc brakes: by looking and by listening. First, check for wear by looking at your brake pads through the spaces between the wheel's spokes. The outside pad will be pressed against a metal rotor. Generally, there should be at least 1/4 inch of pad. If you see less than 1/4 inch of pad, you may want to have your brake pads inspected or replaced.
Read the full review