2021 Acura TLX Preview
Christian Wardlaw | May 20, 2020
With recent confirmation that Acura is dropping the midsize RLX from its lineup, the redesigned 2021 Acura TLX will play an even more significant role as Honda's luxury brand returns to its "precision crafted performance" roots.
Previewed by the Acura Precision Concept and teased by the Acura Type S Concept, the all-new 2021 Acura TLX is the first of the automaker's cars and SUVs to adopt the company's new design language. Continuing on a front-wheel drive platform, the 2021 TLX will remain available with Acura's torque-vectoring Super Handling All-Wheel Drive (SH-AWD) system, which in the company's 2020 models can put up to 70% of engine output to a single rear wheel.
Acura has also confirmed that the new TLX will come in a Type S performance variant equipped with an exclusive turbocharged 3.0-liter V-6 engine and SH-AWD. It is a good bet that the same powertrain will find its way into the redesigned 2021 Acura MDX as well. Clearly, by the look of the oversized quad exhaust outlets and pronounced rear diffuser panel strakes, the 2021 Acura TLX Type S means business. Acura claims it will be "the quickest, best-handling, and most well-appointed sedan" in the company's history.
Expect the new TLX to have the same or a similar True Touchpad Interface infotainment system as the RDX SUV, complete with Apple CarPlay, Android Auto, a Wi-Fi hotspot, and Key by Amazon in-car package delivery. AcuraWatch advanced driving assistance systems are also a good bet for the standard equipment list, while available upgrades are likely to include premium leather upholstery, real wood trim, navigation, ELS Studio 3D audio components, a head-up display, a surround-view camera system, and upgraded front seats with heating and ventilation.
Acura will officially introduce the 2021 TLX on May 28, 2020. We will update this article at that time.
The information in this article is from Acura, with some speculation on the author's part. It was accurate as of May 19, 2020 but may have changed since that date.
Explore car shopping guides
10 Most Popular Midsize SUVs and Crossovers
Families flock to midsize SUVs for their seating capacity, cargo capability, and available all-wheel-drive systems. This guide provides an overview of the 10 most popular, non-luxury midsize SUVs and crossovers in America.
Read the full review
10 Most Popular Luxury Cars
During economic boom times, luxury cars are more popular–especially those on the lower end of the pricing spectrum. But that isn't always the case. This guide contains the 10 best-selling luxury car models in America.
Read the full review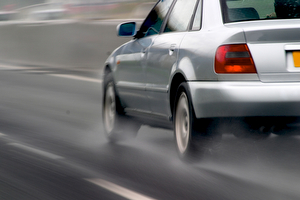 Warning Signs You Need New Brakes
They may not be something you think about very often, but your vehicle's brakes are one feature that should always be in top working condition. Let's look at how to know when you need new brakes.Look, listenThere are two ways to check for brake wear on disc brakes: by looking and by listening. First, check for wear by looking at your brake pads through the spaces between the wheel's spokes. The outside pad will be pressed against a metal rotor. Generally, there should be at least 1/4 inch of pad. If you see less than 1/4 inch of pad, you may want to have your brake pads inspected or replaced.
Read the full review