2016 Infiniti Q30 Previewed by Frankfurt Concept Car
2016 Infiniti Q30 Previewed by Frankfurt Concept Car
Jeff Youngs | Aug 12, 2013
Infiniti recently announced a plan to sell the current G37 Sedan through to mid-2015, offering the aging luxury sport sedan at a discounted price to give the automaker a product to sell in an emerging entry-luxury segment where window stickers start at around $30,000. What will replace the G37 when it finally goes out of production? The Infiniti Q30 Concept slated to debut at the Frankfurt Motor Show gives consumers a good idea of what they'll be able to purchase a couple of years from now.

"This Infiniti Q30 Concept is a prelude to the product portfolio expansion which underpins our aggressive global growth strategy," said Johan de Nysschen, presid
ent of Infiniti Motor Company, Ltd. "In our quest to appeal to the modern, young-minded premium customer, the Infiniti Q30 Concept has a distinctive style and reaches new levels of product quality."

A sketch released a month in advance of the concept car's official debut depicts a 5-door hatchback wtih two signature Infiniti design cues: a double-arch grille and a crescent-cut C-pillar.

"Q30 Concept is slender, sleek and seductive," said Alfonso Albaisa, Infiniti executive design director. "When you see speedy big cats, like cheetahs, they have a slenderness and a lightweight stride. It's almost like they're floating. That's the muscularity we were aiming for with Q30 Concept."

Infiniti says that when the 2016 Q30 goes on sale, it will be the first vehicle influenced from inception by Sebastian Vettel, Infiniti's Director of Performance and three-time Formula One world champion. Vettel was brought aboard to help ensure that Infiniti products are, as the automaker puts it, infused "with race-bred performance."

Additional details and photography is to follow closer to the 2013 Frankfurt Motor Show.
Additional Reserch
Explore car shopping guides
10 Most Popular Midsize SUVs and Crossovers
Families flock to midsize SUVs for their seating capacity, cargo capability, and available all-wheel-drive systems. This guide provides an overview of the 10 most popular, non-luxury midsize SUVs and crossovers in America.
Read the full review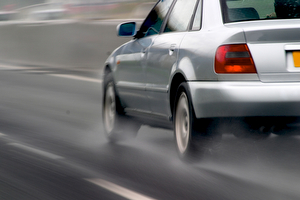 Warning Signs You Need New Brakes
They may not be something you think about very often, but your vehicle's brakes are one feature that should always be in top working condition. Let's look at how to know when you need new brakes.Look, listenThere are two ways to check for brake wear on disc brakes: by looking and by listening. First, check for wear by looking at your brake pads through the spaces between the wheel's spokes. The outside pad will be pressed against a metal rotor. Generally, there should be at least 1/4 inch of pad. If you see less than 1/4 inch of pad, you may want to have your brake pads inspected or replaced.
Read the full review
Most Reliable Crossovers and SUVs in 2017
According to J.D. Power, these are the crossovers and SUVs that are expected to provide the best reliability over time.
Read the full review