2013 U.S. Initial Quality Study Results
2013 U.S. Initial Quality Study Results
Jeff Youngs | Jun 19, 2013
Initial Quality Study
(IQS), the company's industry benchmark study that measures new-vehicle quality after the first 90 days of ownership. A key finding of this year's study is that nearly two-thirds of the problems experienced in the first 90 days of ownership are related to the vehicle's design, as opposed to components that malfunction. For example, the component may be working as designed, but owners deem it a problem because it may be difficult to understand or operate.
"Automakers are investing billions of dollars into designing and building vehicles and adding technologies that consumers desire and demand, but the risk is that the vehicle design, or the technology within the vehicle, in some cases may not meet customer needs," said David Sargent, vice president of global automotive at J.D. Power. "Keep in mind that automakers are trying to design vehicles that appeal to a broad array of consumers, and what works for the majority may not work for all. The successful companies will be those automakers that find a way to give customers the technology they want while at the same time making it sufficiently intuitive so all customers find it easy to use."
J.D. Power has released the results of its latest
Explore car shopping guides
10 Most Popular Midsize SUVs and Crossovers
Families flock to midsize SUVs for their seating capacity, cargo capability, and available all-wheel-drive systems. This guide provides an overview of the 10 most popular, non-luxury midsize SUVs and crossovers in America.
Read the full review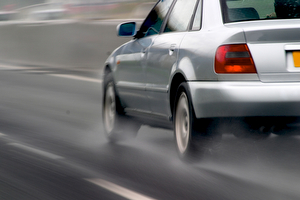 Warning Signs You Need New Brakes
They may not be something you think about very often, but your vehicle's brakes are one feature that should always be in top working condition. Let's look at how to know when you need new brakes.Look, listenThere are two ways to check for brake wear on disc brakes: by looking and by listening. First, check for wear by looking at your brake pads through the spaces between the wheel's spokes. The outside pad will be pressed against a metal rotor. Generally, there should be at least 1/4 inch of pad. If you see less than 1/4 inch of pad, you may want to have your brake pads inspected or replaced.
Read the full review
Most Reliable Crossovers and SUVs in 2017
According to J.D. Power, these are the crossovers and SUVs that are expected to provide the best reliability over time.
Read the full review
New Car Preview
2020 Hyundai Palisade Preview
Most Dependable
2019 Vehicle Dependability: Most Dependable Trucks
Most Popular
10 Most Popular Large Cars and Minivans
New Model Update
New for 2019: Lincoln
New Car Preview
2020 Mercedes-Benz GLS Preview
More related
articles
Compare
0
of 3