2017 Vehicle Dependability Study: Most Dependable Small Cars
2017 Vehicle Dependability Study:
Most Dependable Small Cars
Christian Wardlaw | Feb 22, 2017
U.S. Vehicle Dependability Study (VDS)
. The study measures problems with design and defects with 3-year-old vehicles, as reported by original owners of the vehicles. Participants in the study detail what has gone right and what has gone wrong with their cars, trucks, SUVs, and vans, and J.D. Power analyzes the data and publishes its conclusions in the
VDS
.To express study findings in a simple, consumer-friendly way, J.D. Power generates Power Circle Ratings. These ratings are an easily understood visual representation of a model's performance relative to its competitors and are designed to help consumers make smart decisions about the vehicles they buy.
2014_chevrolet_sonic_ltz_sedan_720.jpg
This buyer's guide highlights the top-rated 2014 small cars that receive a Power Circle Rating of 5 out of a possible 5 for vehicle dependability after 3 years of ownership.
Annually, J.D. Power conducts the
Explore car shopping guides
10 Most Popular Midsize SUVs and Crossovers
Families flock to midsize SUVs for their seating capacity, cargo capability, and available all-wheel-drive systems. This guide provides an overview of the 10 most popular, non-luxury midsize SUVs and crossovers in America.
Read the full review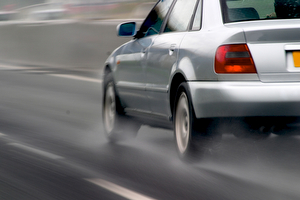 Warning Signs You Need New Brakes
They may not be something you think about very often, but your vehicle's brakes are one feature that should always be in top working condition. Let's look at how to know when you need new brakes.Look, listenThere are two ways to check for brake wear on disc brakes: by looking and by listening. First, check for wear by looking at your brake pads through the spaces between the wheel's spokes. The outside pad will be pressed against a metal rotor. Generally, there should be at least 1/4 inch of pad. If you see less than 1/4 inch of pad, you may want to have your brake pads inspected or replaced.
Read the full review
Most Reliable Crossovers and SUVs in 2017
According to J.D. Power, these are the crossovers and SUVs that are expected to provide the best reliability over time.
Read the full review