2009 Windows and Patio Doors Satisfaction Study
Date Published:

12/31/2008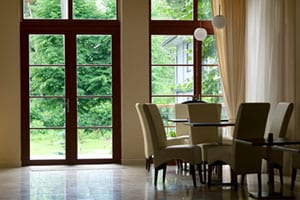 Other highlights from the 2009 Windows and Patio Doors Satisfaction Study include:
For a third consecutive year, Pella ranks highest among consumers in overall satisfaction with windows and patio doors. Achieving a score of 787, Pella performs particularly well in three of seven factors: operational performance, product quality and durability, and appearance and design.
Closely following Pella in the rankings are Andersen (785) and Milgard (784). Andersen performs particularly well in the ordering and delivery and warranty factors, while Milgard performs well in the price and repair and replacement factors.
The study finds that consumers report spending less overall on window projects, purchasing fewer window and patio door units, and are installing windows and doors themselves1 more frequently than in previous years.
The average cost of window replacement projects decreased by $514 compared to last year, from $3,608 in 2008 to $3,094 in 2009. The average number of window/patio door units purchased also declined, from 7.0 units in 2008 to 5.8 units in 2009.
The percentage of consumers who installed windows/patio doors themselves increased 4 percent from last year, from 37% in 2008 to 41% this year.
Further reflecting increased consumer scrutiny of window and door products, the importance of warranty, product quality and durability, appearance and design features, and operational performance factors have increased from 2008. Importance of the price and ordering and delivery factors has declined substantially.
1
Respondents may have installed the windows or patio doors themselves or with help from family and friends; hired an independent contractor, handyman or remodeler; used an installation service provided by a home improvement retailer; or used an installation service provided by the product manufacturer.
About the Study
The 2009 Windows and Patio Doors Satisfaction Study is based on responses from 2,856 consumers who purchased new windows or patio doors in the previous 12 months. The study was fielded in March and April 2009.
For More Information:
Previous Page
Page 2 of 2