2012 Independent Travel Website Satisfaction Report Results
While independent travel websites are especially popular for booking flights and hotel reservations, satisfaction is highest among online consumers who use travel websites for booking rental cars and vacation packages. Those are among the findings from the recently released
J.D. Power and Associates 2012 Independent Travel Website Satisfaction Report.SM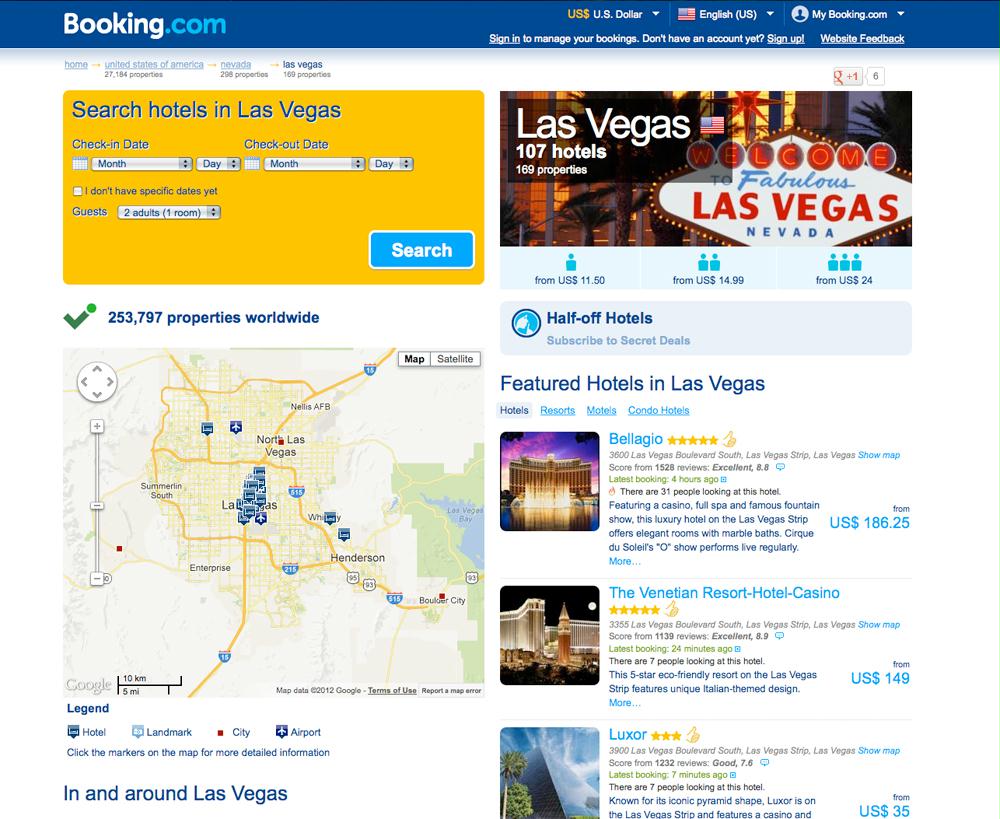 The report finds that consumers visiting independent travel websites most often book flight reservations (61%), followed by hotels (57%), rental cars (28%), and vacation packages (16%). Among these options, satisfaction is highest among consumers who book a vacation package. Notably, consumers who purchase a vacation package are the most active travel website shoppers, visiting their primary travel website an average of 43 times annually and completing a purchase an average of seven times, significantly more than the report average of 20 visits and four purchases per year.
The report is based on responses from 2,009 consumers who made an online purchase of a vacation package, rental car, hotel room, or airline ticket from an independent travel website in the past 12 months. The report measures consumers' overall satisfaction with their purchase experience, examining seven factors (listed in order of importance): competitiveness of pricing; usefulness of information; availability of booking/reservation options; website/online store; ease of booking/reserving; competitiveness of sales and promotions; and contact with customer service.
Overall satisfaction with independent travel websites averages 798 points, on a 1,000-point scale. Booking.com ranks highest among independent travel websites with a score of 816, performing particularly well in availability of booking/reservation options; ease of booking/reserving; and competitiveness of pricing. Following Booking.com in the rankings are Hotwire.com (813) and Priceline.com (808).
The report also finds that pricing is the strongest driver of overall satisfaction with independent travel websites. "Reinforcing the correlation between overall satisfaction and satisfaction with pricing, the highest-ranked travel websites in overall satisfaction all have significantly higher price satisfaction scores than the report average," notes Sara Wong Hilton, director at J.D. Power and Associates. "While other factors certainly affect overall satisfaction, 75% of online travel website consumers indicate price as a primary purchase reason, so there is no denying price greatly impacts the overall website experience."
The relative importance of customer service in driving overall satisfaction is low, as only 29% of online consumers indicate that they contacted customer service; however, among those who contacted customer service, this becomes the most important factor.
J.D. Power and Associates offers the following tips to consumers who are considering making a purchase from an independent travel website:
Know your search objectives. Are you looking for the best prices on air travel, hotel, and car rental, or is getting exactly what you want more important than the price? Are you not sure what you want? Know, going in, whether you want the travel website to give you some ideas, execute your orders, or find bargains for you. Some websites specialize in finding low prices; others specialize in a certain product or service, such as rental cars; some offer all-in-one packages. Some sites will not actually sell you tickets and accommodations, but will provide links to the best deals.
Know exactly how much you'll be paying and what you'll be paying for. Some travel websites will add their own fees to whatever reservations you make--or, if they're quoting you a price, will not include taxes, service fees, and other charges in the total price. Read the terms thoroughly.
Name-your-price travel websites tend to give you good deals if you're not choosy about what hotel you'll stay in or what flight you'll take. That is, you might get a good rate on a posh hotel room, but it might be located in an inconvenient neighborhood. A flight might be the least expensive available, but it might not be direct, or may be a red-eye.
Be aware of reward programs. Many websites offer extra discounts for repeated use or discounts based on total spend. These can amount to significant savings.
View 2012 Independent Travel Website Ratings
View All Travel Ratings