2010 Home Improvement Retail Store Study
Ace is the Place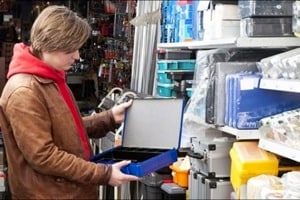 For afourth consecutive year, Ace Hardware ranks highest in satisfyinghome improvement retail store customers. Ace Hardware achieves a scoreof 791 on a 1,000-point scale and performs particularly well in twofactors: staff and service, and store facility. True Value (779) andMenards (761) follow Ace Hardware in the rankings. True Value performsparticularly well in the staff and service factor, while Menardsperforms well in two factors: price, and sales and promotions.
Other highlights from the 2010 U.S. Home Improvement Retail Store Studyinclude:
While location is still an important factor for many customerswho choose Ace Hardware and True Value, a particularly large proportionof these customers-nearly 20 percent-indicate they shop there due togood customer service. In contrast, fewer than one in ten customersoverall cite good customer service as the reason they chose their homeimprovement retailer.
Following three consecutive years of spending declines in thehome improvement retail market, spending increased in March 2010,suggesting the beginning of market recovery. According to the JointCenter for Housing Studies for Harvard University, projected spendingon home remodeling in 2010 is expected to total more than $121billion-a 5 percent increase from 2009.
Sixty-two percent of customers in 2010 say they asked a storeemployee for help during their last visit to their primary homeimprovement retailer, an increase from 51 percent in 2009. Nearly 80percent of customers who asked for assistance needed help in locating aproduct, while 62 percent had a question about a particular product.
For More Information:
View the Press Release
Viewthe Ratings

Previous Page
Page 2 of 2