2009 European Hotel Guest Satisfaction Study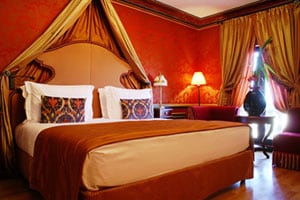 Let's face it, traveling to and within Europe isn't cheap. If you're traveling from the U.S., for example, airfare alone can set you back thousands of dollars. Factor in potentially unfavorable currency exchange rates, ground transportation, lodging, food, souvenirs, street vendors, sightseeing tour admission, and any other unexpected expenses you may incur, and things can quickly add up. Fortunately for consumers, European hoteliers recognize this and are keeping their costs and fees in line with the realities of the current economy, contributing to a recent surge in hotel guest satisfaction. In fact, according to a recent J.D. Power and Associates study, overall hotel guest satisfaction in Europe has increased notably from 2008 to achieve a five-year high in 2009, with improvements occurring in all ranked brands and across all segments.
The 2009 European Hotel Guest Satisfaction Index Study, now in its fifth year, examines the overall satisfaction of European hotel guests based on seven measures (in order of importance):
costs and fees
guest room
hotel facilities
food and beverage
check-in/check-out
hotel services
reservations
Overall, 42 hotel brands were measured and ranked in four segments:
upper upscale
upscale
mid-scale full service
economy
According to the study, hotel guest satisfaction has improved from 2008 by 16 index points or more (on a 1,000-point scale) in each of the four segments. The greatest improvements have occurred in the upper upscale and upscale segments, which increased by 24 and 25 points, respectively, from 2008.
"Hotels throughout Europe have not lost their customer focus despite an economic climate that has reduced demand and forced hotel brands to stringently contain costs," said Michael Drago, director of the global hospitality and travel practice at J.D. Power and Associates. "Hotel guest satisfaction with guest rooms and costs and fees has improved notably in 2009. While customers are likely pleased by lowered room rates, hotel brands are ensuring these rooms are still meeting customer standards and expectations."
The study finds that keeping guests highly satisfied has a particularly strong positive impact on loyalty and advocacy rates. Among the most highly satisfied hotel guests (those with satisfaction scores averaging 900 and above), 69 percent indicate that they will return to the hotel, while 79 percent will recommend the hotel to others. In addition, these customers make an average of 7.0 positive recommendations, compared with the industry average of 3.5 recommendations.
Next Page
Page 1 of 2