2010 Cordless Drill and Driver Study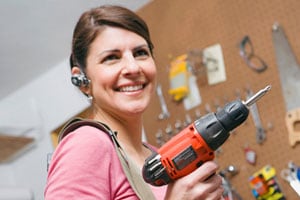 With summer and Father's Day approaching, consumers may be shopping for cordless drills as gifts, or for completing home improvement projects. But with all of the brands on the market today, how do you decide which one to buy?
Based on results of the recent
J.D. Power and Associates 2010 Cordless Drill/Driver Study,SM
which measures satisfaction with cordless drills/drivers based on the customer experience in six key factors-battery performance, battery versatility, ease of use, operational performance, price, and warranty-consider this:
Before you buy, think about how often and for what purposes you intend to use your cordless drill. Selecting the most appropriate model for your needs will provide a much more satisfying experience. If extensive home remodeling projects are planned, you may want to invest in a higher-end model; others may find entry-level cordless drills sufficient for light or occasional-use needs.
Use manufacturer Web sites, in-store product information, and retailer staff to familiarize yourself with different brands and their offerings.
The overall weight of a cordless drill/driver has a substantial impact on overall satisfaction. Owners who are highly satisfied with the weight of their cordless drill/driver (providing ratings of nine or 10 on a 10-point scale) are much more satisfied overall (847 on a 1,000-point scale) than those who are less satisfied with their drill's weight (847 vs. 673, respectively).
When shopping for a new drill/driver, the overall weight of the tool should be considered based on intended use. If the intent is to often use the tool overhead for hanging drywall, shelves, etc., buyers should look for a drill/driver that provides adequate power and torque in a more lightweight package. A cordless drill/driver with more overall weight to it can also be an advantage when working on projects that require higher levels of power and torque, as the additional battery weight may make the work easier.
Battery selection should be an important consideration when buying a new cordless drill/driver, as it highly impacts the overall versatility, power/torque, and the weight of a drill. A few factors to think about include: the length of time it takes to charge the battery; the percentage of the battery that is charged in the "quick charge" cycle; and which other power tools you own or might need in the future that can use the same battery platform.
Educate yourself about the different battery technology and voltage options available. The study finds that cordless drill/driver owners who know the voltage and battery type of their drill are notably more satisfied than customers who don't. Still relatively new to the market, lithium-ion (Li-ion) battery technology offers users the advantage of increased run-time at nearly half the weight of nickel cadmium (NiCd) and nickel metal hydride (NiMH) based batteries.
For More Information:
View Cordless Drill/Driver Ratings

View the Press Release