2009 Residential Television Service Satisfaction Study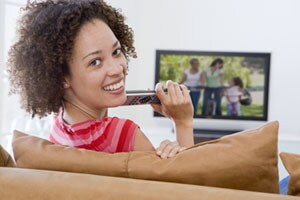 As any dedicated TV show fan will tell you, there's nothing more frustrating than waiting patiently for an entire week for the next episode of your favorite program to air, settling into the couch or your favorite chair, yummy snack and a drink by your side, grabbing the remote, flipping on the TV with great anticipation, only to see.nothing. Alarmed-and quickly running out of time before the show starts-you run through your TV emergency checklist. First, you make sure the TV is on the right channel. Check. You make sure the VCR or DVR isn't interfering in some way. Check. You make sure the cable or satellite box is plugged in. Check. You check all equipment, cords and connections. Everything seems to be in order. For a brief moment, you wonder if you paid the cable or satellite bill last month. A quick check of your bank records shows that yes, indeed, you did pay. Sadly, you come to the realization that you have fallen victim to the dreaded service outage.
Losing precious seconds, you quickly recover and call your TV service provider to find out what's going on. To your dismay, your call is answered by an automated response system that: A) doesn't
really
know how important your call is to them; B) asks you to verify
everything
-including your preferred language, account information and the reason you are calling; and C) tells you repeatedly that your call is important to them, and you will be assisted by the next available customer service representative. After what seems like an eternity, you are finally greeted by a live person (as far as you know) who then asks you to verify everything about your identity and your account.again. As your patience starts to wear thin, you are politely told that everything with your account is in order, but that you should check to make sure your TV equipment is working properly. Sigh.
The above scenario, while strictly for demonstration purposes, has probably happened to just about anyone who has ever subscribed to a cable, satellite or IPTV provider. Fortunately for consumers, outages are decreasing and customer service is improving, according to a recent study by J.D. Power and Associates. The 2009 Residential Television Service Satisfaction Study reveals that customer satisfaction with television service providers has increased considerably from 2008 as a result of improvements in outages and problem resolution. According to the study, overall satisfaction averages 632 on a 1,000-point scale-an increase of 23 points from 609 in 2008, which marked the lowest industry average during the past five years.
"In the wake of receding satisfaction scores in 2008, improvements in product performance and the service surrounding it this year suggest that providers are eager to better position themselves to retain and grow their customer bases," said Frank Perazzini, director of telecommunications at J.D. Power and Associates. "For instance, average time on hold required to resolve a customer's most recent problem has declined 13 percent from 2008 to 9 minutes, 5 seconds this year. Additionally, fewer customers are experiencing outages, with 11 percent reporting an outage in 2009, compared with 15 percent in 2008."
Recommendation Rates Increasing, but Customer Loyalty on the Decline
Typically, recommendation and loyalty rates go hand in hand. After all, it stands to reason that if a customer is happy with their service provider, they would likely recommend that provider to someone else and, in turn, be a loyal customer themselves. According to the study, however, this is not always the case.
During the past year, residential TV service providers have seen their recommendation rates increase, thanks to their efforts to improve product performance and customer service. Among customers who receive programming from satellite providers, 78 percent say they "definitely will" or "probably will" recommend their provider to others, an increase of 6 percentage points from 2008. Sixty percent of cable customers say the same-an increase of 5 percentage points from 2008. But while recommendation rates are up compared to last year, customer loyalty has actually declined.
"Despite an improvement in recommendation rates, there isn't a corresponding increase in loyalty," said Perazzini. "In fact, the percentage of cable customers affirming their loyalty to their provider has declined to 25 percent in 2009 from 27 percent in 2008. Satellite providers have experienced a similar decline with a loyalty rate of 40 percent in 2009-a four-percentage-point drop from 2008. Given the current state of the economy, customers generally want to keep their options open, even if they are satisfied with their current provider. To increase loyalty, providers should continue to enhance the service improvements offered this year, and to remain competitive from a cost and offerings perspective."
Next Page
Page 1 of 2