2009 Home Improvement Retail Store Study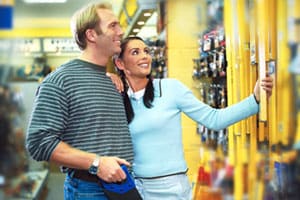 When it comes to home improvement stores, like many things in life, bigger isn't always better. And while it can't be denied that the big box retailers typically offer more brightly lit stores, wider aisles and a larger selection of items from which to choose, a new study by J.D. Power and Associates suggests that finding a knowledgeable sales associate when you're looking for that hard-to-find item, or receiving precious "how-to" advice for a project, can lead to greater satisfaction.
To get a handle on which home improvement retailers offer the most satisfying customer experience, J.D. Power and Associates recently surveyed more than 8,000 consumers who purchased a home improvement product or service within the previous 12 months from a store that sells home improvement products. Consumers were asked to evaluate their primary home improvement retailer in five key areas:
merchandise;
price;
sales staff;
sales/promotions;
store facility.
The study reveals that although the sales staff factor decreased in importance compared to last year, it still remains as one of the most influential factors impacting customer satisfaction. The study also finds that the importance of the store facility has increased considerably from 2008, while the importance of price and sales/promotions has decreased.
"Every retailer may compete on price to some degree. However, those retailers that successfully combine price competitiveness with a consistently helpful and satisfying shopping experience can create a notable advantage," said Dale Haines, senior director of the real estate and construction practice at J.D. Power and Associates.
Among the major home improvement chains included in the study, Ace Hardware was rated highest by consumers for the third consecutive year, achieving an industry-best score of 792 (on a 1,000-point scale). According to consumers, Ace performs particularly well in the sales staff and store facility factors. Following Ace in the rankings are Lowe's (779) and Menards (774). Lowe's performs particularly well in merchandise, while Menards performs well in the sales/promotions and price factors.
Next Page
Page 1 of 2