2010 North America Airline Satisfaction Study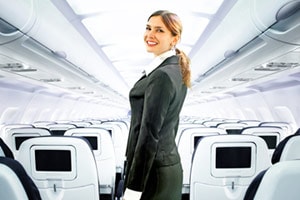 As the summer travel season gets into full swing and the economy gradually recovers, leisure air travel is once again becoming an option for many consumers. But just as travelers are returning to the skies, additional fees for checked bags, increased prices for in-flight beverages and meals, and the likelihood of increased passenger traffic later this summer threaten to negate recent gains the airlines have made in customer satisfaction.
In spite of these concerns, a recent study conducted by J.D. Power and Associates shows that overall customer satisfaction with airlines in North America has increased notably, with 10 of 12 airlines improving from 2009. According to the J.D. Power and Associates 2010 North America Airline Satisfaction Study,SM which surveyed more than 12,300 passengers who flew on a major North American airline between April 2009 and April 2010, overall customer satisfaction with airlines in 2010 has improved to a three-year high of 673 on a 1,000-point scale, improving by 15 points from 2009.
"The fact that overall satisfaction with airlines has improved is particularly notable in light of a difficult economic year, in which add-on fees have continued to proliferate and two major airlines have merged," said Stuart Greif, vice president and general manager of the global travel and hospitality practice at J.D. Power and Associates. According to Greif, many of the same macroeconomic conditions that adversely impact airlines financially-including lower fares-have led to improvements in satisfaction. For example, with fewer passengers traveling and fewer flights in the air, on-time performance has improved. As more airlines charge fees for checking bags, fewer passengers are choosing to do so, thus reducing the number of baggage issues and complaints.
The 2010 North America Airline Satisfaction Study measures overall customer satisfaction based on performance in seven measures (in order of importance):
cost and fees;
flight crew;
in-flight services;
aircraft;
boarding/deplaning/baggage;
check-in;
reservation.
Carriers are ranked in two segments: traditional network and low-cost. Traditional network carriers are defined as airlines that operate multi-cabin aircraft and use multiple airport hubs, while low-cost carriers are airlines that operate single-cabin aircraft with typically lower fares.
The improvements in the 2010 study are driven by increases in satisfaction with cost and fees and in-flight services. The study also suggests that while passengers may dislike add-on fees, they are gradually starting to accept them. In turn, those fees may be having a less pronounced impact on satisfaction as passengers recalibrate their expectations.
"Airlines generally compete based on costs and fees, which is necessary to make their organizations stronger in an extremely difficult environment," said Greif. "It's important for carriers to remember, however, that building a base of committed passengers is also about creating a travel experience that fosters emotional attachment to a particular carrier, which in turn may make customers willing to flex their schedules or pay a little more for their flights."
Next Page
Page 1 of 2