2010 North America Airport Satisfaction Study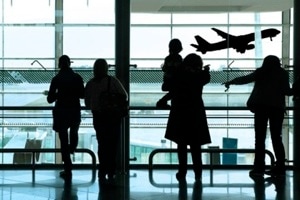 Bigger is not better
In the study, the smaller airports score markedly higher than the medium or large airports-a trend that has continued in recent years as passengers have shown dissatisfaction with larger facilities. Medium airports, however, have continued to maintain the same level of customer satisfaction over the same period.
Indianapolis International Airport (IND), a small airport, achieved the highest score in the study (777) due to its impressive check-in/baggage check and security facilities. Another small airport-Southwest Florida International (RSW)-achieved the second-highest score at 767. The top three were rounded out by Tucson International (TUS), with an index score of 755. All three of the highest-scoring airports in the 2010 study serve less than 10 million passengers per year.
Kansas City International (MCI) ranks highest within the medium airport segment with 742 points-a score attributed to its efficient accessibility, check-in/baggage check and security facilities. Portland International (PDX) and Tampa International (TPA) followed on its heels.
Among large airports, Detroit Metropolitan Wayne County (DTW) earns an index score of 705-indicative of its highly rated terminal and baggage claim facilities. Tied for second among the large airports were Denver International (DEN) and Minneapolis/St. Paul International (MSP)-both with a score of 701.
About the study
The 2010 North America Airport Satisfaction Study is based on responses from more than 12,100 passengers who took a round-trip flight between January and December 2009. Passengers evaluated their departing and arriving airports, and the study includes a total of more than 24, 200 evaluations. The study was fielded between January and December 2009.
For More Information:

Previous Page
Page 3 of 3