2010 North America Airport Satisfaction Study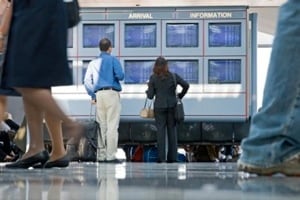 Basic needs outweigh technology in travelers' minds
Airports have jumped on the technology bandwagon to help improve efficiency and entertain passengers in the terminal who are waiting for flights. Nowadays, online check-in, digital parking lot management systems, high-speed wireless Internet access and flat-screen televisions are commonplace in nearly every airport. However, most passengers are more concerned with basic needs: getting through check-in quickly, short security lines and seating comfort. According to the study, the most important thing for most travelers is being able to get in and out of the airport as quickly as possible.
"Airports can best facilitate passenger progress and improve satisfaction by focusing on key elements such as the clarity of airport signage, facilitating quick and accurate delivery of baggage and partnering with the TSA to reduce security check wait times," says Stuart Greif, vice president and general manager of the global hospitality and travel practice at J.D. Power and Associates.
Happy passengers are super spenders in the terminal
Interestingly enough, the study finds that when passengers reported high levels of satisfaction with the airport, they tended to increase their retail spending. Passengers who report that they are "disappointed" with the airport only spend on average about $14.12 during their visit. However, passengers who report being "delighted" spend an average of $20.55 at the facility-a 45-percent jump in retail spending. Unfortunately, only 9 percent of passengers report being "delighted" (by giving the airport a 10 on a 10-point scale), so there is much room for improvement.
Previous Page
Next Page
Page 2 of 3