2010 North America Airport Satisfaction Study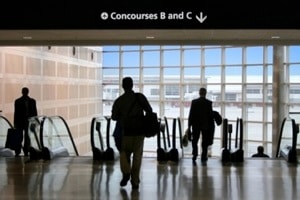 It's no secret that, for many travelers, the most dreaded part of any trip involves the airport. Typically, these sprawling facilities are spread across large areas, enabling them to handle modern commercial aircraft operations. Each year, tens of millions of passengers travel through these busy hubs, forced into long lines for tickets, baggage services and security checks-only to wait several hours for a flight.
Some airports have seized the opportunity of a captive audience. In many locations, renovated terminal interiors more closely resemble shopping malls, with restaurants, shopping and entertainment. In spite of these conveniences, however, travelers still yearn for basic travel needs: short wait times, ease of airport navigation and prompt baggage delivery. Delivering on these elemental requirements not only makes consumers happier, but it opens their wallets.
These facts, and more, are revealed in the recently released
J.D. Power and Associates 2010 North America Airport Satisfaction Study.SM
The study measures overall airport satisfaction in three distinct airport segments, based on passenger traffic: large, medium and small. Larger airports have 30 million or more passengers per year, while medium airports typically serve 10 million to 30 million passengers per year. Small airports as outlined in the study are those with traffic of fewer than 10 million passengers per year. Six different factors-assessed through 27 specific attributes-are examined to determine overall customer satisfaction. They are: airport accessibility; baggage claim; check-in/baggage check process; terminal facilities; security check; and food and retail services.
Airport satisfaction lags behind other travel industries
The airport experience, often the first and last part of a trip away from home-and the portion that often sets the tone for the rest of the journey-is the least pleasant segment when compared to hotel and rental car satisfaction, according to the study. Overall, passenger satisfaction with the airport experience averages just 690 points (on a 1,000-point scale)-considerably lower than average satisfaction with hotels and rental cars (756 and 733, respectively).
Next Page
Page 1 of 3