2009 Full-Service Moving Company Customer Satisfaction Study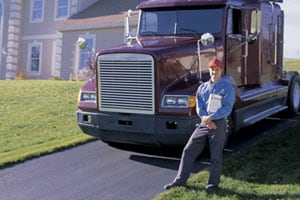 Whether you're talking personal computer repair, new furniture delivery or handling baggage at the airport, losing or damaging a customer's belongings or property is almost guaranteed to result in a less than satisfying customer service experience. After all, you are paying professionals for a service, so it's not unreasonable to expect that everything will go smoothly. But sometimes, in spite of everyone's best efforts to prevent a disaster, bad things can happen.
Nowhere is this more evident than in the full-service moving industry, where loss or breakage of customer belongings can be quite common. In fact, last year, nearly a third of all full-service moving company customers reported lost or damaged items during their move, according to a J.D. Power and Associates survey. Fortunately for consumers, a new study by J.D. Power and Associates shows that overall customer satisfaction with full-service moving companies has improved in 2009 as customers report considerably fewer lost and damaged items.
"Whether a move is completed independently or through a professional full-service moving company, there is a risk that items can be lost or damaged. Moving companies have reduced their lost and damaged items rates, but if any does occur, the customer may be protected or insured to some extent through the moving company, which can help mitigate a problematic move," said Michael Drago, director of the real estate and construction industries practice at J.D. Power and Associates.
The 2009 Full-Service Moving Company Customer Satisfaction Study, now in its third year, is based on evaluations from consumers in the United States who used a full-service moving company to move their household goods during the past 12 months. Customer satisfaction with full-service moving companies is measured across five factors:
insurance/valuation coverage
loading and unloading service
packing services
shipping estimate process
transportation of belongings
According to the study, overall satisfaction with moving companies averages 804 on a 1,000-point scale in 2009-up 16 points from 2008. Satisfaction has increased from 2008 in all five factors measured in the study. In addition, the proportion of customers who report lost or damaged items has decreased to less than one-third in 2009, compared with nearly one-half in 2008.
The study also finds that shipping estimates are a key consideration for customers selecting a moving company. The estimate process is typically completed in one of three ways-in-person by a representative of the moving company; over the phone; or online. The study finds that satisfaction with shipping estimates is nearly equal among customers whose estimates are completed in-person and on"Savvy customers recognize that the initial quote process provides more than just a price point to use in differentiating among the moving companies under consideration," said Drago. "The process offers insight into what it will be like to work with each company, as well as how accommodating, comprehensive and proactive they are. The price that is quoted is important, but the process is equally as revealing."
Next Page
Page 1 of 2