2010 Initial Quality Study Results
Many New or Newly Redesigned Models Offer High Initial Quality
Each year, a significant number of all-new or redesigned cars, trucks, SUVs, and crossovers hit the market. Historically, all-new models have typically launched with below-average levels of initial quality. However, in 2010 a number of new models launched with high initial quality.
Four of these models-the Honda Accord Crosstour, Ford Mustang, Lexus GX 460 and Ford Taurus-rank highest in their respective segments in their first year on the market.
Four others-the Mercedes-Benz E-Class Coupe and E-Class Sedan, Ford Fusion, and Porsche Panamera-rank among the top three in their respective segment.
"With manufacturers allocating significant budgets towards the design, engineering, production and marketing of all-new vehicle launches or major redesigns, hitting the initial quality mark out of the gate is clearly a key objective," said Sargent. "Getting initial quality right on launches may not only boost long-term profitability for automakers, but may also encourage new-vehicle buyers to consider all-new or redesigned models by inspiring renewed confidence in their quality. Having a strong image for quality and reliability is essential in today's market-both in the U.S. and around the globe."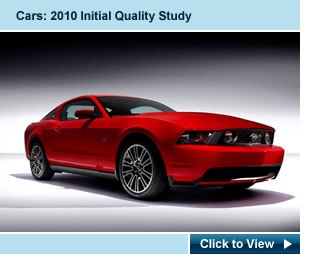 Other all-new or redesigned models that debut with higher quality than their segment average include:
the Lincoln MKT, Nissan Cube, Porsche Panamera, Kia Soul, Mercedes-Benz E-Class Coupe, and the Volvo XC60.
Among the most improved models:
the Ford Explorer Sport Trac experiences a 68 PP100 improvement.
the Hyundai Tucson (53 PP100 improvement) and the Volvo XC70 (48 PP100 improvement) also make large gains.
Awards and Recognition
Ford and Lexus brands each garner three segment awards in the 2010 IQS.
Ford captures awards for the Focus, Mustang, and Taurus.
Lexus receives awards for the GS, GX and LS models. The Lexus LS has the fewest initial quality problems in the industry, with just 55 PP100.
Chevrolet, Honda and Toyota receive two model awards each.
Chevrolet models receiving awards are the Avalanche (in a tie) and the Tahoe.
Honda receives awards for the Accord and the Accord Crosstour.
Toyota receives awards for the FJ Cruiser and Sienna.
Also receiving segment awards are:
Acura RDX, Cadillac Escalade, GMC Sierra LD (in a tie), Hyundai Accent, Mazda MX-5 Miata, Mercedes-Benz C-Class, Nissan Frontier, Scion xB, and Volvo C70.
Previous Page
Next Page
Page 4 of 27