2010 Initial Quality Study Results
Initial Quality Over The Years
J.D. Power and Associates first published the
Initial Quality Study
in 1987. The study was designed as an industry quality benchmark to help vehicle manufacturers identify and correct specific problems with their new car and truck models. Over the years, however, the study-and the publicly reported results-have had a dramatic impact on improving new-vehicle quality. While the study continues to be widely used by automakers around the world today, the media and consumers pay close attention to the results as well.
From 1998 to 2006, new-vehicle quality improved at an average of 6% per year, going from 176 PP100 in 1998 to 109 PP100 in 2006. Clearly, manufacturers were listening to their customers. Since 2006, new-vehicle quality, while still continuing to improve, has leveled off a bit, improving at a 3% annual rate, on average, during the last four years.
Domestics Overtake Imports in Initial Quality
For 2010, the industry average for initial quality is 109 PP100-a mere one PP100 higher (lower PP100 equals higher initial quality) than in 2009. However, initial quality for domestic brands as a whole has improved by 4 PP100 in 2010 to an average of 108 PP100-slightly better than the initial quality of import brands, which averages 109 PP100 in 2010.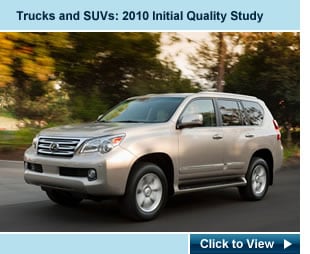 "Domestic automakers have made impressive strides in steadily improving upon initial quality, particularly since 2007," said David Sargent, vice president of automotive research at J.D. Power and Associates. "This may mark a key turning point for U.S. brands as they try to win the battle against negative perceptions of their quality. However, there is still a long road ahead, and domestic manufacturers need to prove that they can consistently produce higher quality vehicles than import brands. In addition, domestics need to focus their efforts on convincing consumers-particularly younger buyers-that the quality of domestic brands rivals, if not surpasses, that of imports."
Assembly Plant Awards
The Daimler assembly plant in East London, South Africa, receives the Platinum Plant Quality Award for producing vehicles yielding the fewest defects and malfunctions worldwide. Averaging 28 PP100, the plant produces the Mercedes-Benz C-Class.
Among North and South American plants, the Toyota Motor Company plant in Cambridge South, Ontario, which produces the Lexus RX 350, receives the Gold Plant Quality Award for North/South America.
In the Asia Pacific region, Toyota Motor Company's Kyushu 2, Japan plant, which produces the Lexus ES, IS and RX, receives the Gold Plant Quality Award for Asia Pacific.
Plant awards are based solely on defects and malfunctions and exclude design-related problems.
Previous Page
Next Page
Page 2 of 27