Auto Claims Satisfaction Study
J.D. Power and Associates Reports:
Satisfaction with Auto Claims Process Declines Slightly from 2009,
But Remains Considerably Higher than 2008 Levels
Auto-Owners Insurance Ranks Highest in Overall Satisfaction among Auto Insurance Claimants
For a Third Consecutive Year
WESTLAKE VILLAGE, Calif.: 4 November 2010 — Although claimant satisfaction with auto insurers has declined slightly from 2009, the industry has retained most of the service gains made since 2008, according to the J.D. Power and Associates 2010 U.S. Auto Claims Satisfaction StudySM released today.
The study finds that, while overall satisfaction has declined by five points from 2009 to 837 (on a 1,000-point scale), satisfaction remains 19 points higher than in 2008. The slight decline in satisfaction in 2010 is the result of a decrease in satisfaction with settlement, primarily due to a reduction in the number of claimants who considered their settlement to be fair and equitable.
"In 2009, the industry experienced dramatic improvements in overall claims satisfaction, fueled in part by a two-day reduction in average repair time year over year," said Jeremy Bowler, senior director of the insurance practice at J.D. Power and Associates. "In 2010, repair times have increased by less than half a day, on average, so the industry has retained much of that satisfaction gain."
The study measures claimant satisfaction with the claims process for auto physical damage loss. Depending on the complexity of a claim, the claimant may experience some or all of the following factors measured in the study: first notice of loss; service interaction; appraisal; repair process; rental experience; and settlement. Of these six factors, settlement is the most important to overall satisfaction and accounts for 37 percent of a claimant's overall claims experience. First notice of loss is the second-most-impactful factor (24%).
Auto-Owners Insurance ranks highest for a third consecutive year in overall satisfaction with a score of 902. Auto-Owners Insurance performs particularly well in all six factors. Amica Mutual and The Hartford rank second in a tie with 872 points each.
The study also finds the following key trends among Generation Y auto insurance claimants (those born between 1977 and 1994):
One-half of Gen Y claimants indicate that their recent auto claim was their first. As a result, claimants in this age group are the least likely to understand how a claim is typically handled and are more likely to ask questions about their underlying coverage. For example, more than one-third of Gen Y claimants say they weren't sure if they had rental coverage when they reported their loss.
While Boomers take an average of 15 minutes to report their claim, Gen Y claimants spend an average of nearly 22 minutes reporting their claim, and are twice as likely to indicate they still had questions that were not answered during the first notice of loss call.
Among claimants who do not have rental car coverage, Gen Y claimants are least likely to own a second vehicle that they can use while their primary vehicle is repaired (20 percent vs. 34 percent of Boomer claimants). As a result, Gen Y claimants are more likely to report they were inconvenienced during the claims process.
Among claims that require towing the vehicle to a repair facility, nearly one in four Gen Y claimants attempts to negotiate what is covered in the claims settlement—more than twice the rate of Boomers.
"Particularly for Gen Y claimants, insurers must strive to set the first-time claimant's expectations, then manage them appropriately—both for repair work and the settlement process," said Bowler. "Insurers need to ensure Gen Y claimants have a clear understanding of who to contact after they report their claim, as well as who they should expect to be contacted by next. Insurers should also find out each claimant's preferred communication channel and contact number. In many regards, Gen Y claimants tend to be less knowledgeable about their policy or the claims process, but are much more critical of what they perceive to be unnecessary complexity or delay in handling their claim."
For an in-depth examination of Gen Y expectations of the claims experience and how individual insurers are competing for this growing segment of the market, read "Gen Y: Servicing the First-Time Claimant" by clicking here.
The 2010 U.S. Auto Claims Satisfaction Study is based on 11,597 responses from auto insurance customers who filed a claim within the past 12 months with their current auto insurance provider. The study excludes claimants whose vehicle only incurred glass/windshield damage or was stolen, or who only filed roadside assistance claims. The study was fielded May through June 2010.
About J.D. Power and Associates
Headquartered in Westlake Village, Calif., J.D. Power and Associates is a global marketing information services company operating in key business sectors including market research, forecasting, performance improvement, Web intelligence and customer satisfaction. The company's quality and satisfaction measurements are based on responses from millions of consumers annually. For more information on insurance company ratings, please visit JDPower.com. Also available are car reviews and ratings, car insurance, health insurance, cell phone ratings and more. J.D. Power and Associates is a business unit of The McGraw-Hill Companies.
About The McGraw-Hill Companies
Founded in 1888, The McGraw-Hill Companies (NYSE: MHP) is a global information and education company providing knowledge, insights and analysis in the financial, education and business information sectors through leading brands including Standard & Poor's, McGraw-Hill Education, Platts, and J.D. Power and Associates. The Corporation has more than 280 offices in 40 countries. Sales in 2009 were $5.95 billion. Additional information is available at http://www.mcgraw-hill.com/.
No advertising or other promotional use can be made of the information in this release without the express prior written consent of J.D. Power and Associates. /corporate
# # #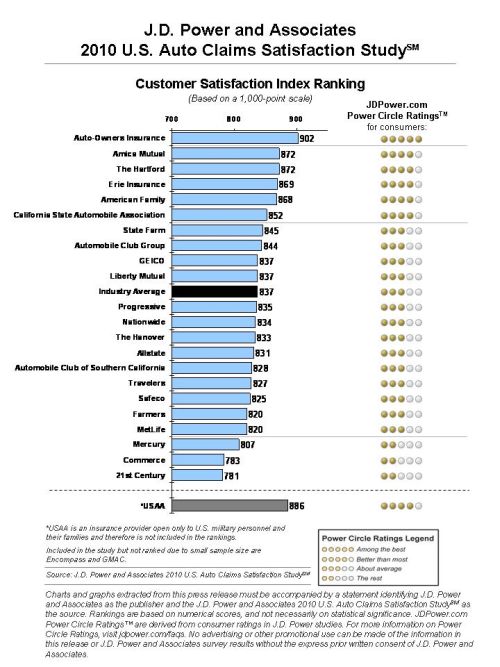 Download Article
Having Trouble Downloading Article Get Adobe Acrobat Reader