US Financial Advisor Satisfaction
J.D. Power and Associates Reports:
As the Financial Markets Recover, Advisor Perceptions of Their Firms Have Stabilized
Edward Jones Ranks Highest in Employee Advisor Satisfaction;
Commonwealth Financial Network Ranks Highest in Independent Advisor Satisfaction
WESTLAKE VILLAGE, Calif.: 22 October 2010 — After a considerable decline in advisor perceptions from 2007 to 2008, financial advisor sentiment regarding their firms has stabilized in 2010, according to the J.D. Power and Associates 2010 U.S. Financial Advisor Satisfaction StudySM released today.
The study measures the satisfaction of both employee advisors (those who are employed by their investment services firm) and independent advisors (those who are affiliated with a broker-dealer but operate independently). The study examines eight key drivers of employee advisor satisfaction: firm performance; compensation; work environment; products/offerings; technology; job duties; contact; and people. The study also examines eight key drivers of satisfaction among independent advisors: firm performance; people; technology; compensation; contact; job duties; products for clients; and offerings for advisor.
The study finds that advisor perceptions of their firm's financial stability have improved, most notably among employees of wirehouse firms and independent advisors. Perceptions of financial stability of wirehouses have improved to 5.4 (on a 7-point scale) in 2010 from 4.6 in 2008. While advisors' perceptions of the financial stability of independent firms have improved to 6.3 in 2010 from 6.0 in 2008, they still trail those of advisors of non-wirehouse firms (6.5 in 2010).
"As the financial troubles, compliance violations and merger and acquisition activity of some of the largest wealth management institutions begin to fade from memory, sentiment among financial advisors appears to be settling back in place," said David Lo, director of investment services at J.D. Power and Associates. "Perceptions of financial stability hit a low point in 2008, but now appear to be improving. This is particularly important because brand image is such an important element that drives advisors' perceptions of their firms overall."
The study also finds that a majority of the best practices that drive advisor satisfaction center on maximizing the time advisors can spend with their clients and minimizing the time spent on administrative activities. For example, among employee advisors, best practices include providing dedicated compliance support; software programs that are aligned with daily workflow processes; and same-day contact from IT support. Likewise, for independent advisors, best practices include adjusting the workload so that only 15 percent or less of a typical week is spent on compliance-related tasks such as paperwork, and providing completely integrated software programs.
"Fundamentally, the firms that maximize the amount of time advisors spend with clients and minimize the time they spend on administrative tasks benefit from high levels of advisor satisfaction, which translates into high retention and retained assets under management and production," said Lo. "In the full service investing industry, client loyalty is often more closely aligned to the financial advisor rather than the firm. Dissatisfied advisors who leave their firms often take a majority of their clients with them, hitting the firms with a double whammy—a substantial loss in assets under management on top of the costs associated with training and recruitment."
Edward Jones ranks highest in overall satisfaction among employee advisors with a score of 876 on a 1,000-point scale and performs particularly well in the work environment and job duties factors. Raymond James and Associates follows with a score of 857 and performs particularly well in compensation and perceptions of firm performance. Merrill Lynch ranks third in the segment with 710 points and performs well in the technology and products/offerings provided to its advisors.
Commonwealth Financial Network ranks highest in overall satisfaction among independent advisors with a score of 898. Commonwealth Financial Network performs particularly well in perceptions of financial stability and operational and compliance support. Cambridge Research Advisors (848) follows in the ranking and performs particularly well in products for clients and job duties as it relates to flexibility in choosing products and services to recommend. Raymond James Financial Services ranks third with a score of 845 and performs well in firm performance, products for clients and the usefulness of the firm's investment research.
The 2010 U.S. Financial Advisor Satisfaction Study is based on responses from more than 2,800 financial advisors who hold a Series 7 license. Survey sample and industry weighting was provided by Qualified Media and Investment News. The study was conducted in two waves between February and March 2010 and July and September 2010.
About J.D. Power and Associates
Headquartered in Westlake Village, Calif., J.D. Power and Associates is a global marketing information services company operating in key business sectors including market research, forecasting, performance improvement, Web intelligence and customer satisfaction. The company's quality and satisfaction measurements are based on responses from millions of consumers annually. For more information on car reviews and ratings, car insurance, health insurance, cell phone ratings, and more, please visit JDPower.com. J.D. Power and Associates is a business unit of The McGraw-Hill Companies.
About The McGraw-Hill Companies
Founded in 1888, The McGraw-Hill Companies (NYSE: MHP) is a global information and education company providing knowledge, insights and analysis in the financial, education and business information sectors through leading brands including Standard & Poor's, McGraw-Hill Education, Platts, and J.D. Power and Associates. The Corporation has more than 280 offices in 40 countries. Sales in 2009 were $5.95 billion. Additional information is available at http://www.mcgraw-hill.com/.
---
Wirehouse firms include Merrill Lynch, Morgan Stanley Smith Barney, UBS Financial Services and Wells Fargo Advisors.
No advertising or other promotional use can be made of the information in this release without the express prior written consent of J.D. Power and Associates. /corporate
# # #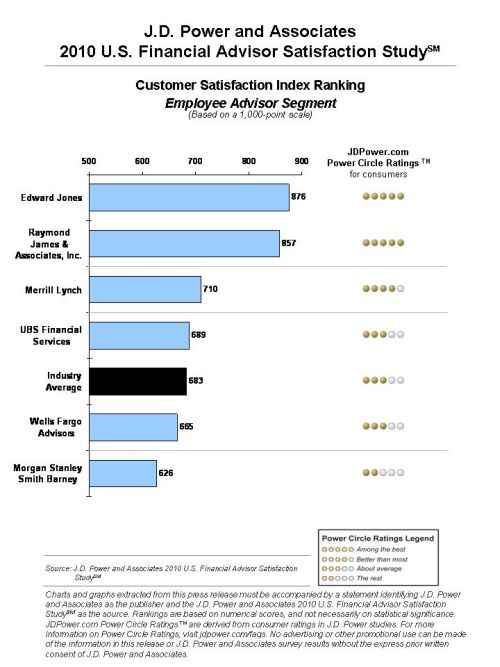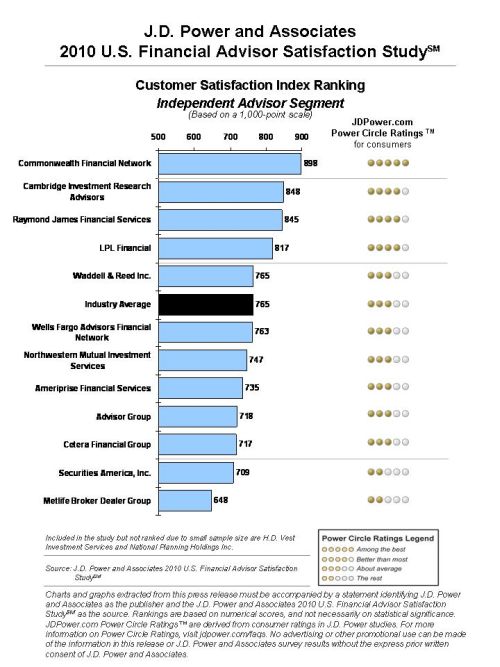 Download Article
Having Trouble Downloading Article Get Adobe Acrobat Reader