2011 China Automotive Performance, Execution and Layout (APEAL) Study
J.D. Power Asia Pacific Reports:
Overall New-Vehicle Appeal in China Achieves a Nine-Year High
Models from German Manufacturers Rank Highest in Four Vehicle Segments
SHANGHAI: 30 November 2011 ? An array of newly launched and redesigned models has driven overall new-vehicle appeal to a nine-year high, stimulated by intense competition between brands and models, according to the J.D. Power Asia Pacific 2011 China Automotive Performance, Execution and Layout (APEAL) StudySM released today.
Now in its ninth year, the APEAL study is a customer-reported measure of what gratifies owners in China regarding their new vehicle?s performance and design during the first two to six months of ownership. The study examines 82 attributes in 10 vehicle categories: vehicle exterior; vehicle interior; storage and space; audio/entertainment/navigation; seats; HVAC; driving dynamics; engine/transmission; visibility and driving safety; and fuel economy.
The overall APEAL score in 2011 averages 825 on a 1,000-point scale, a 17-point increase from 2010. Satisfaction in 2011 has increased in all 10 vehicle categories, with the most substantial improvements occurring in the audio/entertainment/navigation, and HVAC categories. Both categories have increased by 20 points from 2010.
?Indicative of an emerging and dynamic automotive market, tastes and preferences of new-vehicle owners in China are constantly evolving and becoming increasingly sophisticated, which drives both international and domestic automakers to keep refreshing their designs and layouts to meet and exceed customer expectations,? said Liza Wang, research manager at J.D. Power Asia Pacific, Shanghai. ?Out of the 155 models examined in the study, 54 are new and redesigned models from the past two years. The increasingly fierce level of competition has helped push overall new vehicle performance to a new high.?
2011 sees an unprecedented level of competition in the China automotive market, with 93 brands and 481 models vying for consumer attention and preferences.
Significant improvement from 2010 has been observed among both domestic and international brands. Models from Korean brands show the most significant increase in 2011, improving by 47 points from 2010. Models from American and European brands improve by 16 and 11 points, respectively. Domestic brands have improved by 12 points. Models from Japanese brands improve by an average of only five points.
German models rank highest in four of 11 award segments. A model from a Korean brand ranks highest in a segment for the first time since the inception of the study in 2003, with the Hyundai Verna achieving an award in the entry midsize segment, in a tie with Toyota Yaris. Japanese brands also rank the highest in SUV and MPV segments. Models from domestic brands FAW and Wuling rank highest in the lower premium midsize and minivan segments, respectively. Two models from the American brand General Motors ranks highest in the compact and premium compact segments.
The highest-ranked models by segment in 2011 are:
Compact segment: Chevrolet Spark
Premium compact segment: Chevrolet Sail
Entry midsize segment: Hyundai Verna and Toyota Yaris (in a tie)
Midsize segment: Volkswagen Golf
Lower premium midsize segment: FAW Besturn B70
Upper premium midsize segment: Volkswagen CC
Entry Luxury segment: Audi A4L
Luxury segment: Audi A6L
SUV segment: Honda CR-V
MPV segment: Honda Odyssey
Minivan segment: Wuling Rongguang
The study finds that new-vehicle APEAL performance has a strong impact on consumer loyalty and advocacy. The more satisfied customers are with the APEAL performance of their new vehicles, the more likely they are to recommend it to others and repurchase from the brand in the future. Net recommendation and repurchase rates average 37 percent and 20 percent, respectively, among owners with the highest levels of satisfaction. However, among the least satisfied owners, net recommendation and repurchase rates drop to 20 percent and four percent.
Key areas of focus for automakers in the China market are seats, vehicle interior and fuel economy. The study finds that five out of the top 10 areas needing improvement relate to seat problems. Vehicle interior accounts for two out of the top 10 problems. Fuel economy has been among the top 10 concerns since the inception of the study in China eight years ago.
?With passenger vehicle sales projected to total 12.9 million units by the end of 2011, China will continue to be the powerhouse of sales growth for most automakers globally,? said Dr. Mei Songlin, general manager of research services at J.D. Power Asia Pacific, Shanghai. ?Catching the eyes and hearts of Chinese consumers is crucial for domestic and international auto brands alike. While admirable efforts have been made by individual international brands in localizing their design and layout, more focused investments are called for in order to appeal to the unique and increasingly sophisticated tastes of Chinese consumers.?
J.D. Power?s self-funded Voice-of-the-Customer syndicated studies evaluate products and services based on actual consumer feedback. The research is designed to help businesses make informed decisions about product and service improvements. Study results are based solely on the opinions of consumers, not the opinion of J.D. Power.
The 2011 China Automotive Performance, Execution and Layout (APEAL) Study is based on evaluations from more than 17,479 new-vehicle owners who purchased a new passenger vehicle between October 2010 and June 2011. The study was fielded from April to August 2011 in 37 major cities across China.
About J.D. Power Asia Pacific
J.D. Power Asia Pacific has offices in Tokyo, Singapore, Beijing, Shanghai and Bangkok that conduct customer satisfaction research and provide consulting services in the automotive, information technology and finance industries. Together, the five offices bring the language of customer satisfaction to consumers and businesses in China, India, Indonesia, Japan, Malaysia, Philippines, Taiwan, Thailand and Vietnam. Information regarding J.D. Power Asia Pacific and its products can be accessed through the Internet at www.jdpower.com. Media e-mail contact: ellen_wang@jdpa.com.
About J.D. Power and Associates
Headquartered in Westlake Village, Calif., J.D. Power and Associates is a global marketing information services company operating in key business sectors including market research, forecasting, performance improvement, Web intelligence and customer satisfaction. The company?s quality and satisfaction measurements are based on responses from millions of consumers annually. For more information on car reviews and ratings, car insurance, health insurance, cell phone ratings, and more, please visit JDPower.com. J.D. Power and Associates is a business unit of The McGraw-Hill Companies.

About The McGraw-Hill Companies: McGraw-Hill is a leading global financial information and education company that helps professionals and students succeed in the Knowledge Economy. Leading brands include Standard & Poor's, S&P Capital IQ, S&P Indices, Platts energy information services and McGraw-Hill Education. With sales of $6.2 billion in 2010, the Corporation has approximately 21,000 employees across more than 280 offices in 40 countries. On September 12, 2011, the Corporation announced its intention to separate into two public companies ? McGraw-Hill Markets (working name), primarily focused on global capital and commodities markets and McGraw-Hill Education focused on digital learning and education services worldwide. Additional information is available at http://www.mcgraw-hill.com/.
# # #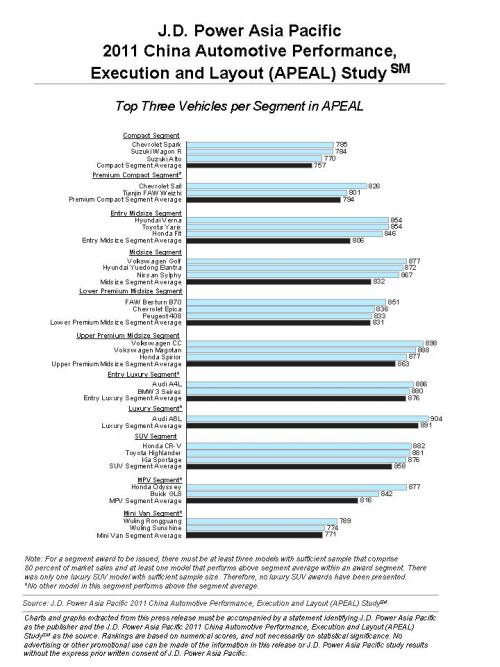 Download Article
Having Trouble Downloading Article Get Adobe Acrobat Reader