Medium-Duty Truck Engine Customer Satisfaction Study
J.D. Power and Associates Reports:
Significant Gas Mileage Differences among Medium-Duty Truck Engine Manufacturers
May Equate to Notable Cost Savings and Higher Satisfaction for Fleet Companies
Hino Trucks Engines Rank Highest in Customer Satisfaction among Conventional Medium-Duty Truck Owners
For a Third Consecutive Year
WESTLAKE VILLAGE, Calif.: 29 November 2010 — While fuel economy levels vary widely among truck engine manufacturers, fleets with the most fuel-efficient engines may benefit from significant cost savings and higher satisfaction, particularly after a year-over-year increase in gas and diesel prices, according to the J.D. Power and Associates 2010 U.S. Medium-Duty Truck Engine and Transmission Customer Satisfaction StudySM released today.
The study finds that there is an annual cost difference of about 18 percent between those medium-duty truck engine makes with the highest gas mileage and those with the lowest. This may translate into an annual savings of approximately $2,100 per truck—or $36,000 annually for a fleet of 17 trucks (the average number of trucks per fleet). Engine makes with the highest reported gas mileage average 9.3 miles per gallon, compared with the industry average of 8.4 miles per gallon. Further, more fuel-efficient trucks typically score 50 points higher in overall engine satisfaction (based on a 1,000-point scale) than trucks with lower fuel efficiency.
"Fleet owners that purchase a truck with an engine that is very fuel-efficient can have a real competitive advantage in terms of their overall operating costs," said Todd Markusic, senior director of the commercial vehicle practice at J.D. Power and Associates. "With some fleets exceeding 100 trucks, saving a few thousand dollars each year in fuel costs per truck may have a considerable impact on the bottom line. Although some fleet owners may be tempted to purchase gas engines given that gas prices are currently much lower than diesel, a more fuel-efficient diesel engine will ultimately lead to much lower annual fuel costs."
The study, now in its third year, measures customer perceptions of 2009 model-year Class 5, 6 and 7 gasoline and diesel engines, and provides manufacturers with a comprehensive and objective measure of customer satisfaction with the products and related dealer service. Eight factors are measured to determine overall engine satisfaction: engine reliability and dependability; accessibility to components for service/maintenance; engine warranty; control module (ECM); maintaining speeds on grades; average fuel economy; vibration at idle; and acceleration when fully loaded.
Hino Trucks engines rank highest in customer satisfaction for a third consecutive year with a score of 822 on a 1,000-point scale and perform particularly well in engine reliability and dependability, average fuel economy and accessibility to components for service/maintenance. Paccar (774) and General Motors (769) follow Hino in the rankings.
"Hino continues to satisfy its owners by focusing its efforts on the most important aspects of customer satisfaction and maintaining high quality in their engines," said Markusic.
The study also finds the following:
Among the 27 percent of customers who experience an engine problem, satisfaction is 126 points lower, on average, than among those who do not experience an engine problem (661 vs. 787, respectively).
Ten percent of customers indicate experiencing a fuel problem. On average, satisfaction among these customers is 134 points lower than among those who do not experience a fuel problem.
Customers indicate that engine problems caused one unscheduled period of downtime, on average, during the past 12 months. During these periods, downtime averages approximately two days.
The 2010 U.S. Medium-Duty Truck Engine and Transmission Customer Satisfaction Study is based on responses from 1,255 primary maintainers or one-year-old conventional cab medium-duty trucks. The study was fielded between June and August 2010.
About J.D. Power and Associates
Headquartered in Westlake Village, Calif., J.D. Power and Associates is a global marketing information services company operating in key business sectors including market research, forecasting, performance improvement, Web intelligence and customer satisfaction. The company's quality and satisfaction measurements are based on responses from millions of consumers annually. For more information on car reviews and ratings, car insurance, health insurance, cell phone ratings, and more, please visit JDPower.com. J.D. Power and Associates is a business unit of The McGraw-Hill Companies.
About The McGraw-Hill Companies
Founded in 1888, The McGraw-Hill Companies (NYSE: MHP) is a global information and education company providing knowledge, insights and analysis in the financial, education and business information sectors through leading brands including Standard & Poor's, McGraw-Hill Education, Platts, and J.D. Power and Associates. The Corporation has more than 280 offices in 40 countries. Sales in 2009 were $5.95 billion. Additional information is available at http://www.mcgraw-hill.com/.
No advertising or other promotional use can be made of the information in this release without the express prior written consent of J.D. Power and Associates. /corporate
# # #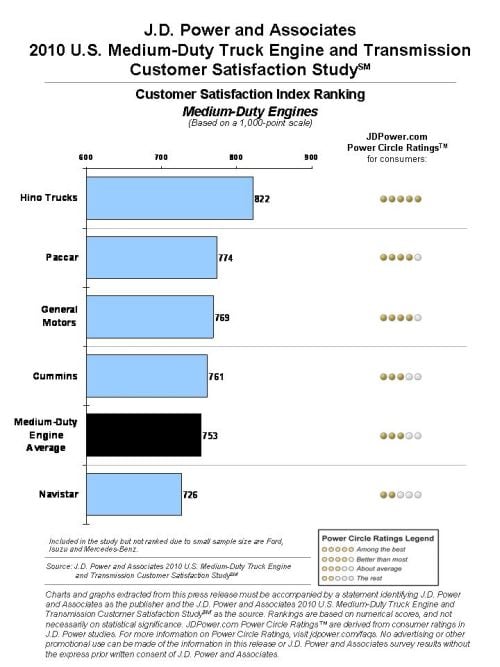 Download Article
Having Trouble Downloading Article Get Adobe Acrobat Reader