2011 India Automotive Performance, Execution and Layout Study
J.D. Power Asia Pacific Reports:
More than One-Half of Repeat Car Buyers in India Are Moving Up-Market
Maruti Suzuki and Toyota Models Rank Highest in Two Segments Each, While Models from Ford, Hyundai and Nissan Each Rank Highest in One Segment
SINGAPORE: 21 December 2011?More than one-half of repeat car buyers in India select a model that is either larger or more expensive than the model they previously purchased, according to the J.D. Power Asia Pacific 2011 India Automotive Performance, Execution and Layout (APEAL) Study SM released today.
The study finds that the premium compact car segment gains the most from this migration, as one-third of the repeat car buyers who move up-market select a model in this segment. This is mainly due to the fact that nearly one-half of the repeat car buyers in India previously owned compact car models, which are smaller and less expensive than premium compact car models.
?Vehicle ownership has always been a tangible sign of progression in India,? said Mohit Arora, executive director, J.D. Power Asia Pacific. ?The growing demand for a larger or more expensive vehicle amongst Indian owners reflects their rising aspirations. Currently, those owners who aspire to upgrade their vehicles have more options available to them, with new makes and models launching in all vehicle segments. This growth further fuels consumer demand.?
Now in its 13th year, the study is an owner-reported measure of what gratifies owners in India with the design, features, layout and performance of their new vehicle. Ten performance categories contribute to overall APEAL scores: vehicle exterior; vehicle interior; storage and space; audio/entertainment/navigation; seats; heating, ventilation and air conditioning (HVAC); driving dynamics; engine/transmission; visibility and driving safety; and fuel economy. Overall APEAL performance is reported as an index score based on a 1,000-point scale, with a higher score indicating higher satisfaction.
Satisfaction with new-vehicle design and performance in 2011 averages 829, up from 817 in 2010. Overall, the industry improves across all 10 categories, with the largest improvement occurring in fuel economy.
The study also finds that newly launched models garner higher satisfaction ratings amongst customers in India, compared with refreshed and carryover models. Satisfaction with newly launched models averages 836?seven points higher than satisfaction with existing models.
?Launching exciting models with the latest features is crucial for winning over today?s demanding customer,? said Arora. ?With manufacturers placing increasing focus on quality and design, owners of newly launched models also experience fewer problems, which enhances their satisfaction with their vehicles.?
Model Results by Segment
Two Maruti Suzuki models?the Alto and Estilo?rank highest in the compact segment, in a tie, with a score of 844 each. While both models perform well in fuel economy, the Alto performs particularly well in the vehicle exterior factor, while the Estilo performs particularly well in the audio/ entertainment/ navigation factor.
Two Toyota models?the Corolla Altis and Innova?rank highest in their respective segments. The Corolla Altis ranks highest in the premium midsize car segment with a score of 864 and performs particularly well in all 10 categories. The Toyota Innova ranks highest in the MUV/MPV segment for a fifth consecutive year.
In the SUV segment, the Ford Endeavor ranks highest with a score of 877 and achieves the highest APEAL score in the industry in 2011.
In the premium compact segment, the newly launched Nissan Micra receives an award with a score of 857 and performs particularly well in six of the 10 categories: vehicle exterior; audio/ entertainment/ navigation; seats; HVAC; visibility and driving safety; and fuel economy.
The Swift DZire, with a score of 842, receives an award in the entry midsize car segment for a fourth consecutive year.
The newly launched Hyundai Verna ranks highest in the midsize segment with a score of 863 and performs particularly well in all 10 categories.
The 2011 India APEAL Study is based on responses from more than 8,000 owners who purchased a new vehicle between November 2010 and July 2011. The study was fielded between May and September 2011 in 20 cities across India.
About J.D. Power Asia Pacific
J.D. Power Asia Pacific has offices in Tokyo, Singapore, Beijing, Shanghai and Bangkok that conduct customer satisfaction research and provide performance analytics services in the automotive, information technology and finance industries. Together, the five offices bring the language of customer satisfaction to consumers and businesses in Australia, China, India, Indonesia, Japan, Malaysia, Philippines, Taiwan, Thailand and Vietnam. Information regarding J.D. Power Asia Pacific and its products can be accessed through the Internet at www.jdpower.com. Media e-mail contact: xingti_liu@jdpower.com.sg.
About J.D. Power and Associates
Headquartered in Westlake Village, Calif., J.D. Power and Associates is a global marketing information services company providing forecasting, performance improvement, social media and customer satisfaction insights and solutions. The company?s quality and satisfaction measurements are based on responses from millions of consumers annually. J.D. Power and Associates is a business unit of The McGraw-Hill Companies.
About The McGraw-Hill Companies
McGraw-Hill announced on September 12, 2011, its intention to separate into two public companies: McGraw-Hill Financial, a leading provider of content and analytics to global financial markets, and McGraw-Hill Education, a leading education company focused on digital learning and education services worldwide. McGraw-Hill Financial's leading brands include Standard & Poor's Ratings Services, S&P Capital IQ, S&P Indices, Platts energy information services and J.D. Power and Associates. With sales of $6.2 billion in 2010, the Corporation has approximately 21,000 employees across more than 280 offices in 40 countries. Additional information is available at http://www.mcgraw-hill.com/.
# # #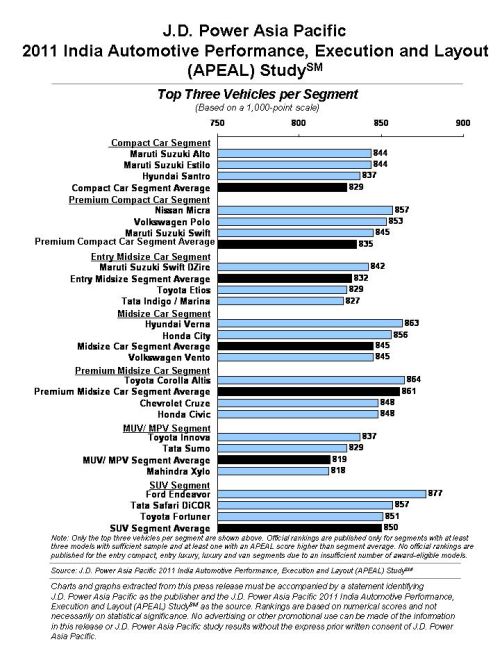 Download Article
Having Trouble Downloading Article Get Adobe Acrobat Reader