Owner-Reported Fuel Economy (From APEAL Study)
J.D. Power and Associates Reports:
Automakers Face up to Tough Market Conditions by Offering the Most Appealing Lineup of New Vehicles in History
BMW and Dodge Each Receive Three Segment-Level Awards; Ford and Honda Receive Two Each
WESTLAKE VILLAGE, Calif.: 27 July 2011 -- As the auto industry battles through another difficult year, vehicle manufacturers are fighting to win customers by offering the most appealing vehicles in history, according to the J.D. Power and Associates 2011 U.S. Automotive Performance, Execution and Layout (APEAL) StudySM released today.
Vehicle Appeal at a Historic High
The study finds that overall vehicle appeal has reached an all-time high since the study's inception in 1996, with the industry average increasing to 781 on a 1,000-point scale (up from 778 in 2010). Furthermore, recently launched all-new and redesigned models are substantially more appealing than their carryover counterparts, widening the gap in score for a second consecutive year. In 2011, the gap is 29 points, compared with 18 points in 2010 and 10 points in 2009. This improvement is partially driven by higher ratings for vehicle styling and fuel economy provided by owners of recently launched vehicles.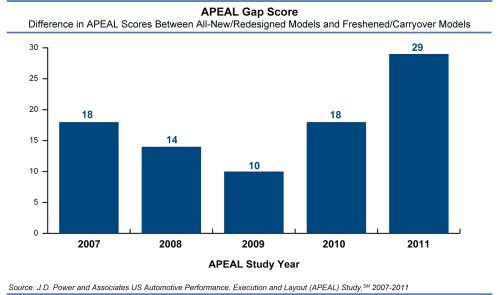 "The auto industry has taken a battering during the past few years," said David Sargent, vice president of global vehicle research at J.D. Power and Associates. "However, it is clear that throughout this period, automakers have never lost sight of the fact that survival--and ultimately success--only comes from winning over customers in the showroom. Offering highly appealing vehicles is one of the primary means to succeed."
Vehicle Appeal and Initial Quality
While the J.D. Power and Associates 2011 Initial Quality StudySM (IQS), which was released in June, found that all-new and redesigned models have more problems, on average, than do carryover models, the 2011 APEAL Study finds that these same models are more likely to offer the styling, performance and features that customers are looking for.
"There are two sides of the quality coin: things gone right and things gone wrong," said Sargent. "Both are of critical importance, and models that perform well on both measures generate higher levels of recommendation and, ultimately, higher loyalty to the brand. In general, customers are also willing to pay more for vehicles that combine high appeal with high initial quality."
Model-Level and Nameplate Rankings
BMW and Dodge each capture three segment-level awards. BMW models receiving awards are the X3, Z4 Roadster and 5 Series, while Dodge receives awards for the Challenger, Charger and Durango. The Charger, Durango, X3 and 5 Series are all redesigned for the 2011 model year. Ford and Honda capture two model-level awards each, with Ford receiving awards for the all-new Fiesta and F-150 LD and Honda receiving awards for the Ridgeline and redesigned Odyssey.
Also receiving awards are the Chevrolet Volt, Hyundai Equus, Land Rover Range Rover, Lexus IS, MINI Countryman, Nissan Armada, Porsche Cayenne, Scion xB, Suzuki Kizashi and Volkswagen GTI. Of these, the Countryman, Equus and Volt are all-new models, while the Cayenne is redesigned. The Equus achieves the highest APEAL score of any model in the industry in 2011. This is the first year that a model other than the BMW 7 Series, Lexus LS or Mercedes-Benz S-Class has led the overall model ranking.
Three models rank highest in their respective segments in both the 2011 APEAL Study and the 2011 IQS: the Dodge Challenger, Ford F-150 LD and Honda Ridgeline.
Porsche is the highest-ranking nameplate in the 2011 APEAL Study for a seventh consecutive year. Hyundai improves from 2010 more than any other nameplate this year, while Jeep and Chrysler also improve considerably.
The APEAL Study examines how gratifying a new vehicle is to own and drive, based on owner evaluations of more than 80 vehicle attributes. The 2011 APEAL Study is based on responses gathered between February and May 2011 from more than 73,000 purchasers and lessees of new 2011 model-year cars and trucks who were surveyed after the first 90 days of ownership. The APEAL Study complements the Initial Quality Study (IQS), which focuses on problems experienced by owners during the first 90 days of ownership.
About J.D. Power and Associates

Headquartered in Westlake Village, Calif., J.D. Power and Associates is a global marketing information services company providing forecasting, performance improvement, social media and customer satisfaction insights and solutions. The company's quality and satisfaction measurements are based on responses from millions of consumers annually. For more information on
car reviews and ratings
,
car insurance
,
health insurance
,
cell phone ratings
, and more, please visit
JDPower.com
. J.D. Power and Associates is a business unit of The McGraw-Hill Companies.
About The McGraw-Hill Companies

Founded in 1888, The McGraw-Hill Companies is a leading global financial information and education company that helps professionals and students succeed in the Knowledge Economy. With leading brands including Standard & Poor's, McGraw-Hill Education, Platts energy information services and J.D. Power and Associates, the Corporation has approximately 21,000 employees with more than 280 offices in 40 countries. Sales in 2010 were $6.2 billion. Additional information is available at
http://www.mcgraw-hill.com
.
No advertising or other promotional use can be made of the information in this release without the express prior written consent of J.D. Power and Associates.
/corporate
# # #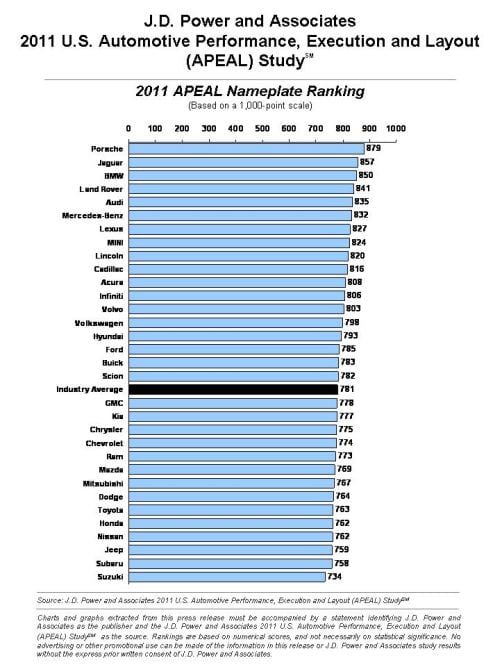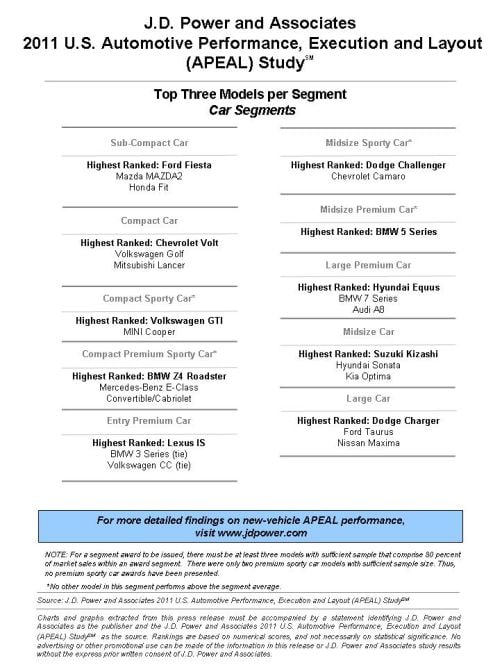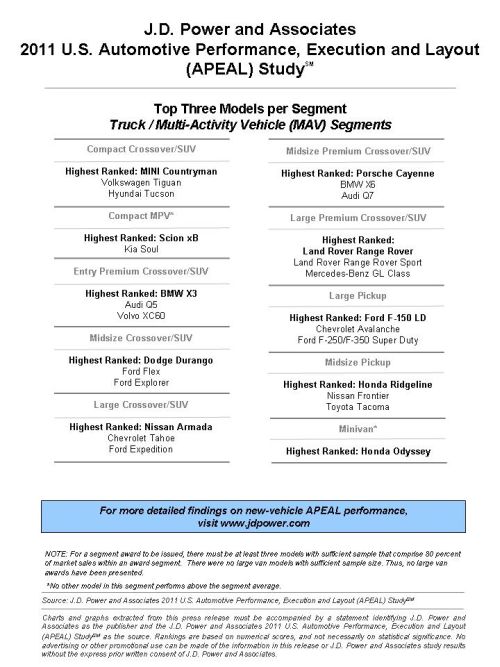 Download Article
Having Trouble Downloading Article Get Adobe Acrobat Reader