2011 Thailand Initial Quality Study
J.D. Power Asia Pacific Reports:
Engine and Transmission Problems in New Vehicles Increase Considerably from 2010
Toyota Models Earn Initial Quality Awards in Four Segments; Mazda3 and Honda CR-V Receive Awards In Their Respective Segments for a Fifth Consecutive Year
BANGKOK: 16 December 2011 ? Overall new-vehicle quality in Thailand has declined from 2010, primarily due to greater incidence of owner-reported problems with engines and transmissions, according to the J.D. Power Asia Pacific 2011 Thailand Initial Quality StudySM (IQS) released today.
The study, which measures problems owners experience with their new vehicle during the first two to six months of ownership, examines more than 200 problem symptoms covering eight categories. These categories, listed in order of frequency of reported problems, include vehicle exterior; engine and transmission; driving experience; features, controls and displays; HVAC; seats; vehicle interior; and audio, entertainment and navigation. Overall quality performance is determined by the problems experienced per 100 vehicles (PP100), with a lower score reflecting higher quality.
Overall initial quality averages 113 PP100 in 2011, compared with 106 PP100 in 2010. The proportion of engine and transmission problems reported has increased to 22 percent in 2011 from 17 percent in 2010. The proportion of issues with engines and transmissions is the second-highest among all problem categories, after vehicle exterior.
?Engine and transmission problems, including excessive fuel consumption, have the most influence on overall satisfaction with initial vehicle quality, compared with other vehicle categories,? said Lo?c Pean, senior manager at J.D. Power Asia Pacific, Bangkok.
The engine and transmission-related problems reported most frequently by owners are excessive fuel consumption (particularly among utility vehicle owners), difficulty getting engine into gear (particularly among pickup owners), and abnormal engine and transmission noises.
?With the development of fuel-efficiency improvement initiatives and the recent launch of new eco-car, CNG and hybrid models, owner expectations regarding fuel consumption are increasing,? said Pean. ?Moreover, abnormal transmission noises are particularly prevalent among compact and entry midsize vehicles, the fastest-growing segments in terms of new-vehicle sales.?
Model Results by Segment
In the entry midsize car segment, the Toyota Yaris ranks highest with a score of 90 PP100. The Mazda2 (111 PP100) and the Honda Jazz (114 PP100) follow in the segment rankings.
The Mazda3 (94 PP100) ranks highest in the midsize car segment for a fifth consecutive year. The Mazda3 is followed in the segment rankings by the Toyota Prius (98 PP100) and the Honda Civic (102 PP100).
The Toyota Camry and Camry Hybrid rank highest in the premium midsize car segment, in a tie (68 PP100 each). The Honda Accord (76 PP100) ranks second in the segment, followed by the Nissan Teana (98 PP100).
In the SUV segment, the Honda CR-V ranks highest for a fifth consecutive year with a score of 81 PP100. The Toyota Fortuner (96 PP100) ranks second in the segment, while the Isuzu MU-7 (99 PP100) ranks third.
In the extended cab pickup segment, the Toyota Hilux Vigo Prerunner Smart Cab ranks highest for a third consecutive year with 101 PP100, followed by the Toyota Hilux Vigo Smart Cab (111 PP100) and the Chevrolet Colorado X-Cab (119 PP100).
In the double cab pickup segment, the Toyota Hilux Vigo (96 PP100) ranks highest for a second consecutive year. The Toyota Hilux Vigo Prerunner ranks second with 107 PP100, while the Isuzu D-Max Hi-Lander ranks third (125 PP100).
Additional Industry Findings
The study finds that more than two thirds (69%) of owners who say they are ?delighted? (providing ratings of 10 on a 10-point scale) with their overall vehicle quality say they ?definitely would? recommend their vehicle to a friend, relative or colleague. However, only 45 percent of ?disappointed? owners (providing ratings of one to five on a 10-point scale) say the same. Similarly, among owners who are ?delighted? with the quality of their vehicle, nearly four times more indicate they ?definitely would? repurchase the same make, compared with owners who are ?disappointed? (49% vs. 13%, respectively).
?As the number of reported problems decreases, overall perceptions of quality, as well as customer loyalty and advocacy, improve,? said Pean. ?Manufacturers that consistently provide high-quality, problem-free vehicles may experience higher returns in terms of positive word of mouth and repurchase intentions.?
The 2011 Thailand Initial Quality Study is based on evaluations from 4,275 owners who purchased their new vehicle between October 2010 and June 2011. The study includes 64 different passenger car, pickup truck and utility vehicle models covering 13 different makes. The study was fielded between April and September 2011.
About J.D. Power Asia Pacific
J.D. Power Asia Pacific has offices in Tokyo, Singapore, Beijing, Shanghai and Bangkok that conduct customer satisfaction research and provide performance analytics services in the automotive, information technology and finance industries. Together, the five offices bring the language of customer satisfaction to consumers and businesses in China, India, Indonesia, Japan, Malaysia, Philippines, Taiwan, Thailand and Vietnam. Information regarding J.D. Power Asia Pacific and its products can be accessed through the Internet at www.jdpower.com. Media e-mail contact: xingti_liu@jdpower.com.sg.
About J.D. Power and Associates
Headquartered in Westlake Village, Calif., J.D. Power and Associates is a global marketing information services company operating in key business sectors including market research, forecasting, performance improvement, Web intelligence and customer satisfaction. The company?s quality and satisfaction measurements are based on responses from millions of consumers annually. J.D. Power and Associates is a business unit of The McGraw-Hill Companies.
About The McGraw-Hill Companies
McGraw-Hill announced on September 12, 2011, its intention to separate into two public companies: McGraw-Hill Financial, a leading provider of content and analytics to global financial markets, and McGraw-Hill Education, a leading education company focused on digital learning and education services worldwide. McGraw-Hill Financial's leading brands include Standard & Poor's Ratings Services, S&P Capital IQ, S&P Indices, Platts energy information services and J.D. Power and Associates. With sales of $6.2 billion in 2010, the Corporation has approximately 21,000 employees across more than 280 offices in 40 countries. Additional information is available at http://www.mcgraw-hill.com/.
# # #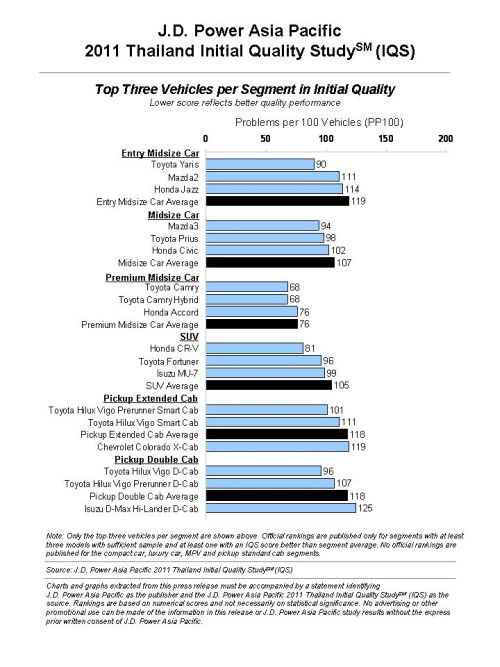 Download Article
Having Trouble Downloading Article Get Adobe Acrobat Reader