2011 Indonesia Initial Quality Study
J.D. Power Asia Pacific Reports:
New-Vehicle Quality in Indonesia Improves Slightly from 2010
Isuzu, Honda, Mazda, Nissan and Toyota Models Rank Highest in Automotive Initial Product Quality in Indonesia In Their Respective Segments
SINGAPORE: 16 December 2011 ? Initial quality of new vehicles in Indonesia has improved slightly from 2010, according to the J.D. Power Asia Pacific 2011 Indonesia Initial Quality StudySM (IQS) released today.
The study, now in its ninth year, measures problems owners experience with their new vehicle during the first two to six months of ownership. The study examines more than 200 problem symptoms covering eight vehicle system categories: vehicle exterior; driving experience; features/ controls/ displays; audio/entertainment/navigation; seats; HVAC; vehicle interior; and engine/ transmission. All problems are summarized as the number of problems reported per 100 vehicles (PP100). Lower PP100 scores indicate a lower rate of problem incidence and higher initial quality.
Overall initial quality in Indonesia averages 83 PP100 in 2011, a 6 PP100 improvement from 2010. Problem rates have declined in three of the eight IQS problem categories, particularly engine/ transmission, vehicle exterior and seats. On the other hand, the incidence of reported problems related to HVAC and driving experience has increased slightly from 2010. Issues related to engine/ transmissions, driving experience and vehicle exterior continue to have the highest incidence of owner-reported problems. The most frequently reported problem in 2011 is the air conditioning does not get cold enough or does not get cold fast enough.
?During the past several years, manufacturers in Indonesia have placed a strong focus on improving initial vehicle quality,? said Rajeev Nair, senior manager at J.D. Power Asia Pacific, Singapore. ?Global manufacturers are increasingly recognizing Indonesia as a key automotive market in Asia, with many of them making large investments in manufacturing operations in Indonesia. This bodes well for Indonesian consumers, who can expect to see more new models being launched in Indonesia in the coming years.?
The study finds a close relationship between the incidence of vehicle problems during the initial months of ownership and owner willingness to recommend their model. Among owners who say they did not encounter any problems with their new vehicle, 44 percent say they ?definitely will? recommend the model to friends and relatives. This declines to 36 percent among owners who experienced between one to two problems with their vehicle, and decreases even further to 30 percent among those who experienced three problems or more.
Friends and relatives continue to be the most popular source of information for new-vehicle buyers in Indonesia in deciding which make and model to purchase (used by 74% of buyers), followed by information gathered from auto shows (45%) and opinions of owners of the same make (35%). The proportion of buyers who use the Internet to research vehicles before deciding which make and model to purchase continues to rise, up to 16 percent in 2011 from 14 percent in 2010.
?Strong reliance on the opinions of friends and relatives, together with growing usage of the Internet, further enhances the reach and impact of word of mouth recommendations in Indonesia,? said Nair. ?Manufacturers that are able to consistently deliver high-quality vehicles that meet and exceed the expectations of owners are better positioned to differentiate themselves from competitors through positive recommendations.?
Model Results by Segment
The Mazda 2 ranks highest in the premium compact car segment with a score of 60 PP100. The MAZDA2 is closely followed in the segment rankings by the Suzuki SX4 (62 PP100) and the Toyota Yaris (63 PP100).
In the Entry SUV segment, the Isuzu Panther ranks highest with a score of 64 PP100. The Daihatsu Terios (90 PP100) and the Toyota Rush (104 PP100) follow in the segment rankings.
The Nissan X-Trail ranks highest in the SUV segment with a score of 46 PP100. Following the Nissan X-Trail in the segment rankings are the Mitsubishi Pajero Sport (54 PP100) and the Honda CR-V (66 PP100).
The Toyota Avanza (83 PP100) ranks highest in the Entry MPV segment and is followed by the Suzuki APV (92 PP100) and Daihatsu Xenia (101 PP100).
The Honda Freed ranks highest in the MPV segment with a score 79 PP100. The Honda Freed is followed in the segment rankings by the Toyota Kijang Innova (82 PP100) and the Nissan Grand Livina (93 PP100).
The 2011 Indonesia Initial Quality Study is based on responses from 2,890 new-vehicle owners who purchased their vehicle between October 2010 and August 2011. The study evaluates 45 passenger car and utility vehicle models across 12 vehicle brands in Indonesia. The study was fielded between May and October 2011.
The Indonesia Initial Quality Study is one of three consumer-based studies that J.D. Power Asia Pacific conducts in Indonesia. The 2011 Indonesia Customer Service Index (CSI) Study, which measures new-vehicle owner satisfaction with after-sales dealership service, was released in July 2011. The 2011 Indonesia Sales Satisfaction Index (SSI) Study, which examines new-vehicle buyer satisfaction with the sales and delivery experience, was released in September 2011.
About J.D. Power Asia Pacific
J.D. Power Asia Pacific has offices in Tokyo, Singapore, Beijing, Shanghai and Bangkok that conduct customer satisfaction research and provide performance analytics services in the automotive, information technology and finance industries. Together, the five offices bring the language of customer satisfaction to consumers and businesses in China, India, Indonesia, Japan, Malaysia, Philippines, Taiwan, Thailand and Vietnam. Information regarding J.D. Power Asia Pacific and its products can be accessed through the Internet at www.jdpower.com. Media e-mail contact: xingti_liu@jdpower.com.sg.
About J.D. Power and Associates
Headquartered in Westlake Village, Calif., J.D. Power and Associates is a global marketing information services company operating in key business sectors including market research, forecasting, performance improvement, Web intelligence and customer satisfaction. The company?s quality and satisfaction measurements are based on responses from millions of consumers annually. For more information on car reviews and ratings, car insurance, health insurance, cell phone ratings, and more, please visit JDPower.com. J.D. Power and Associates is a business unit of The McGraw-Hill Companies.
About The McGraw-Hill Companies
McGraw-Hill announced on September 12, 2011, its intention to separate into two public companies: McGraw-Hill Financial, a leading provider of content and analytics to global financial markets, and McGraw-Hill Education, a leading education company focused on digital learning and education services worldwide. McGraw-Hill Financial's leading brands include Standard & Poor's Ratings Services, S&P Capital IQ, S&P Indices, Platts energy information services and J.D. Power and Associates. With sales of $6.2 billion in 2010, the Corporation has approximately 21,000 employees across more than 280 offices in 40 countries. Additional information is available at http://www.mcgraw-hill.com/.
# # #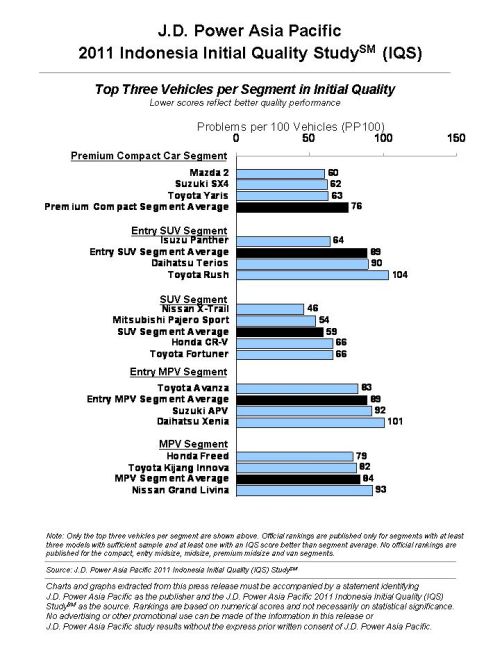 Download Article
Having Trouble Downloading Article Get Adobe Acrobat Reader