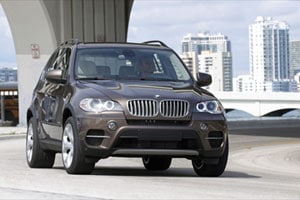 2011 BMW X5
The first-generation X5, introduced just one decade ago, redefined was one of the first offerings in what is now the premium sport utility segment. In a move counter to the rest of the industry, BMW called its first luxury SUV a "Sport Activity Vehicle" (SAV). It was a direct reference to its engineering design of favoring premium on-road handling, performance, efficiency, practicality, and versatility over more traditional SUVs with their heavy off-road capabilities.
The early X5 carried up to 5 passengers in luxury. It offered full-time all-wheel drive (AWD), for control during inclement weather, and car-like handling. Completely redesigned in 2007, the second-generation BMW X5 was slightly larger and addressed the limited cabin space of the previous model with optional seating for up to 7 passengers. The engine choices remained either 6- or 8-cylinder powerplants.
In 2009, BMW changed the nomenclature ("xDrive" was added to the name) and added a new diesel powerplant under the hood of the X5 xDrive35d. The highest-performing model is the X5 M, featuring a 555-horsepower, twin-turbo 8-cylinder engine, upgraded brakes, enhanced suspension, and cosmetic enhancements both inside and out. The 2011 model year marks a major refresh for the X5. New engines (and an 8-speed automatic transmission) are under the hood, the exterior receives a facelift, and the interior is offered with an expanded color pallet of colors.
Highlights:
Facelift and new engines for 2011
Six X5 models: xDrive35i, xDrive35i Premium, xDrive35i Sport Activity, xDrive35d, xDrive50i, and X5 M
Standard 3.0-liter, single-turbocharged 6-cylinder engine rated at 300 horsepower (xDrive35i models)
Standard 3.0-liter, twin-turbocharged, 6-cylinder diesel engine rated at 265 horsepower (xDrive35d model)
Standard 4.4-liter, twin-turbocharged 8-cylinder engine rated at 400 horsepower (xDrive50i model)
Standard 4.4-liter, twin-turbocharged 8-cylinder engine rated at 555 horsepower (X5 M model)
Standard 8-speed "Steptronic" transmission
Standard 6-speed automatic transmission (X5 M model)
Standard all-wheel drive
5-passenger seating
Previous Page
Next Page
Page 8 of 10