2010 Initial Quality Study Results
2010 Ford Mustang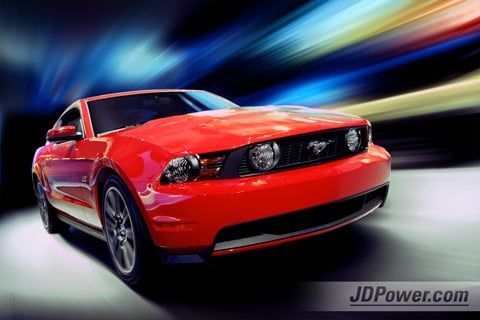 Overview
The Ford Mustang is a traditional midsize American Muscle Car in the truest sense. Sold as a 2-door coupe or convertible, the Mustang offers a rear-wheel-drive platform and a choice of 6- or 8-cylinder engines.

History/Genealogy
The first Ford Mustang arrived in 1964. Interestingly enough, it was originally conceived to have just two seats, but the Ford Thunderbird's low sales convinced the designers that a 4-passenger car would have broader appeal, so a larger car was developed and produced for nearly a decade. The "classic" Mustang reigned until 1973, when a new model (Mustang II) debuted. The second-generation model was smaller-this time based on the Ford Pinto-and its performance waned thanks in part to the energy crisis of the era. Gas crises over, it wasn't until the mid-1980s that the "Mustang 5.0" earned back its Muscle Car designation. The fifth-generation Ford Mustang debuted in 2005. Built on an all-new unibody platform, the Mustang was retro-styled much like the famed early models from the 1960s.

Ford again updated the Mustang for 2010. Although the platform remained the same, nearly all of the exterior panels were revised. An all-new, modern, direct-injected V-6 engine, and updated V-8 powerplants, debuted for the 2011 model year. Each of the engines promises more power and improved fuel economy.
vDimensions and Interior Room

| | | |
| --- | --- | --- |
| Model | Coupe | Convertible |
| | | |
| Length | 188.1 inches | 188.1 inches |
| Width | 73.9 inches | 73.9 inches |
| Height | 55.8 inches | 55.8 inches |
| Weight | 3,401 pounds | 3,401 pounds |
| | | |
| Passenger Volume | 83.3 cubic feet | 81.0 cubic feet |
| Cargo Volume | 13.4 cubic feet | 9.6 cubic feet |
Features and Options
The Ford Mustang offers countless configurations, as it's sold in 10 different models: V6, V6 Premium, V6 Convertible, GT, V6 Premium Convertible, GT Premium, GT Convertible, GT Premium Convertible, Shelby GT500, and Shelby GT500 Convertible.
Standard V6 models are fitted with cloth upholstery, power accessories, remote keyless entry, 17-inch aluminum wheels, and more. Premium models add leather upholstery, upgraded interior lighting, chrome accents in the cabin, an upgraded audio system, and more. GT Models receive the larger 8-cylinder engine, and a host of other improvements including 18-inch alloy wheels. The Shelby GT500 variants-the flagship models of the Mustang lineup-are fitted with a supercharged 8-cylinder engine and standard 19-inch alloy wheels. Convertible models feature a power-operated soft convertible top with a heated rear window.
All models of the 2010 Ford Mustang are rear-wheel drive. The standard engine on V6 models is a 3.7-liter 6-cylinder rated at 305 horsepower and 280 lb.-ft. of torque. The standard engine on the GT models is a 5.0-liter V-8 rated at 412 horsepower and 390 lb.-ft. of torque. The Shelby variants are fitted with 5.4-liter supercharged V-8 engines rated at 550 horsepower and 510 lb.-ft. of torque. Fuel economy for the Mustang ranges between 15 mpg in the city and 31 mpg on the highway.
Safety and Crash Testing
| | | | |
| --- | --- | --- | --- |
| NHTSA | Model | Coupe | Convertible |
| | Front Driver | 5 stars | 5 stars |
| | Front Passenger | 5 stars | 5 stars |
| | Side Driver | 5 stars | 5 stars |
| | Side Rear Passenger | 5 stars* | 4 stars* |
| | Rollover 2WD | 5 stars | 5 stars |
| | Rollover 4WD | Not tested | Not tested |
| | | | |
| IIHS | ** TOP SAFETY PICK ** | | |
| | Frontal Offset | Good | Good |
| | Side Impact | Good | Acceptable |
| | Roof Strength | Not Tested | Not Tested |
Study Results
| | |
| --- | --- |
| 2010 IQS | Highest ranked in segment |
| 2010 VDS | Top 3, Midsize Sporty Car segment |
| 2009 APEAL | - |
To learn more visit:
2010 Ford Mustang Model Page
Previous Page
Next Page
Page 17 of 27