2008 National Auto Insurance Study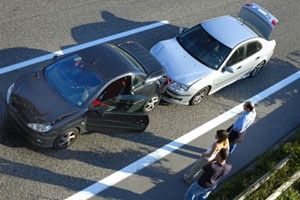 Feeling satisfied with your auto insurance? If you are, you're far less likely to switch companies, even for a lower rate. That carries huge financial impact for auto insurers since a one-percent shift in market share can amount to a $1.6 billion dollar shift in premiums. The good news for consumers is that auto insurers understand that customer satisfaction is a critical component of their financial performance and return on investment.
Customer satisfaction with the auto insurance industry has steadily increased for five consecutive years. Nearly a third of the 27 ranked carriers in the
J.D. Power and Associates 2008 National Auto Insurance StudySM
demonstrated significant year over year gains in their customer satisfaction performance. We measured the customer satisfaction of more then 21,000 policy holders with their auto insurance companies across five factors. In order of importance, they are: interaction, policy offerings, billing and payment, price and claims.
The envelope, please:
Amica Mutual ranks highest in customer satisfaction with auto insurance companies for a ninth consecutive year.
State Farm, Erie Insurance, Auto-Owners, and American National Property and Casualty (ANPAC), follow in the rankings.
USAA also achieves a high level of customer satisfaction but since it is open only to U.S. military personnel and their families, it wasn't included in the rankings.
The study also finds that while all factors of the auto insurance experience are important, the efforts that companies make to communicate with their customers can have a great impact on satisfaction. If your company isn't resolving issues on the first contact, offering annual policy reviews, providing online access to policy information and increasing customer awareness of policy discounts, it might be time to look for a competitor that will. The highest performing companies all focus on that kind of performance.
Some interesting facts:
59 percent of customers with high commitment report they would not switch their auto insurer for any price, compared with only 28 percent of medium- and 9 percent of low-commitment customers.
Highly satisfied, committed customers recommend their company an average of 7.7 times. That is more than five times the number of recommendations offered by customers with low commitment to their carriers.
For more information, view
national auto insurance ratings
or read the
press release
.