2010 Initial Quality Study Results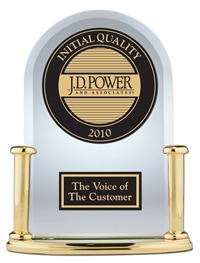 Introduction
Each year, tens of thousands of new-vehicle owners respond to J.D. Power and Associates surveys to provide feedback on quality during the first 90 days of new-vehicle ownership. Consumers are asked to rate both mechanical quality (i.e., defects and malfunctions) and design quality (how well a particular feature works or operates).

Study results are tabulated using a "problems per 100 vehicles (PP100)" metric, where a lower PP100 indicates higher initial quality. Awards are given to the top-performing model in each segment with the lowest PP100, as well as for the assembly plant that produces the vehicles with the fewest number of problems (plant awards are based on defects and malfunctions only and not design quality).

Initial Quality: Only Part of the Story
The J.D. Power and Associates Initial Quality StudySM(IQS) is widely considered the industry benchmark for new-vehicle quality measured at 90 days of ownership. It is one of five key automotive studies that J.D. Power and Associates publishes each year. Others include:


the Automotive Performance, Execution and Layout (APEAL) Study, which measures owner satisfaction with the performance and design of their new vehicles after the first 90 days of ownership;
the Vehicle Dependability Study (VDS), which is similar to IQS but surveys owners of 3-year-old vehicles that were purchased new and asks them to identify problems that occurred during the previous 12 months;
the Sales Satisfaction Index (SSI) Study, which asks new-vehicle buyers about their sales experience; and
the Customer Service Index (CSI) Study, which measures customer satisfaction with dealer service.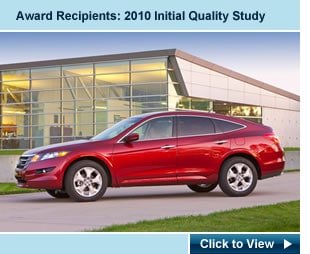 Why is Initial Quality Important?
J.D. Power and Associates research shows that there is a strong link between customer satisfaction and loyalty-a satisfied customer typically becomes a repeat buyer, and is also more likely to recommend the model/brand to others. This is critical for manufacturers, as they often spend large amounts of resources in their ongoing efforts to capture and retain customers. Having a good initial quality story to tell helps their effort greatly.
For consumers, initial quality is an important consideration during the new-vehicle shopping and buying process. Initial quality has been shown over the years to be an excellent predictor of long-term durability, which can significantly impact consumer purchase decisions-not to mention out-of-pocket repair expenses down the road. Furthermore, consumers nowadays expect high levels of "out-of-the-box" quality, and even a single problem, no matter how small, can significantly affect a consumer's perception of a product or brand.
Next Page
Page 1 of 27