Understanding Hybrid Technology
As the price of fuel has increased, hybrid vehicles have enjoyed increased popularity as today's consumer focuses on fuel-efficient transportation. Unfortunately, the term "hybrid" has become widespread-and diluted-as most consumers don't realize that there are many different variants of "hybrid" vehicles under development. The four most common types of hybrid vehicles in showrooms today include:
mild hybrid
,
full hybrid
,
plug-in hybrid
, and
muscle hybrid
.
A hybrid vehicle is defined as having more than one power source (e.g.,a gasoline engine and an electric motor for propulsion; or fuel cells for energy storage and an electric motor for propulsion), whereas a"conventional" automobile utilizes a gasoline- or diesel-powered engine that sends power through a transmission to the powered/driven wheels. A small battery is used only to start the vehicle's internal combustion powerplant. Conventional automobiles have been in existence for more than one hundred years and there are tens of millions of them on our highways today.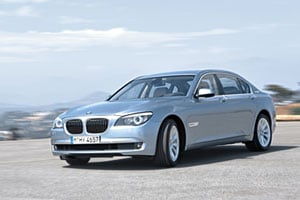 Mild Hybrids
A "mild hybrid" operates much like a conventional automobile, except that it has been fitted with an electric motor designed to supplement the internal combustion engine. A large battery pack is also added to store electricity for consumption by the electric motor. While the electric motor is only a fraction as powerful as the engine, it effectively reduces the workload on the combustion engine when it is automatically switched on-thereby significantly improving fuel economy.

The motor's batteries are charged by the combustion engine and by regenerative braking (a process by which the vehicle's kinetic energy is used to turn the electric motor into a generator to create electricity-not wasting it as heat in the braking system). To further improve fuel economy, mild hybrid vehicles are also equipped with"start-stop" (an automatic function that will shut down the combustion engine when the vehicle is stopped for more than a few seconds, such as when waiting at a stoplight). Some examples of mild hybrids in showrooms today include the BMW 7 Series ActiveHybrid, Chevrolet Malibuand the Mercedes-Benz S400 BlueHYBRID.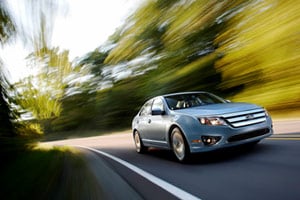 Full Hybrids
A "full hybrid" operates much like a mild hybrid-complete with regenerative braking and engine start-stop-but adds the capability to run solely on electric power under certain conditions. This type of driving is commonly called "electric-only drive," and it allows the full hybrid to operate nearly silently at lower speeds. Vehicle accessories, such as air conditioning, power steering, and lighting receive their power from a large battery pack, so there is no inconvenience to the driver or passengers.

Electric-only drive does have its limitations, however. When the vehicle is traveling at highway speeds, or under a heavy load (e.g.,strong acceleration from a standstill), the electric motor will be unable to meet the power demand, so the combustion engine is designed to automatically start and resume duty as the primary source of propulsion. Some examples of full hybrids on the market today includethe Toyota Prius, Honda Insight, Ford Fusion Hybrid, Lexus HS 250h and the Chevrolet Tahoe Hybrid.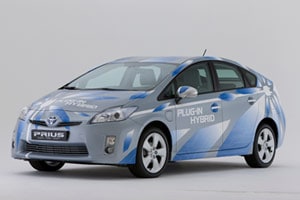 Plug-in Hybrids
A "plug-in hybrid" is the most advanced type of hybrid today. It operates much like a full hybrid-regenerative braking, engine shut-off at idle, and electric-only drive-but it also has the ability to recharge its batteries from a wall plug. In addition, since the battery pack is frequently more robust, a plug-in hybrid is able to drive much further in electric-only mode-often up to 20 miles-between charges.Some examples of plug-in hybrids on the market today (or in the near future) include the Toyota Prius Plug-in Hybrid, Fisker Karma and theChevrolet Volt.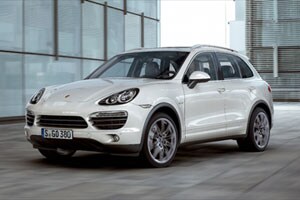 "Muscle Hybrids"
"Muscle hybrids" take advantage of the strong torque offered by electric motors to deliver an enthusiast-oriented driving experience.As expected, so-called muscle hybrids sacrifice efficiency for performance. Nevertheless, they are often able to accelerate as well as some of the world's top-performing combustion-engine powered sport scars. The drawback to the muscle hybrid is mass and additional cost.Battery packs and motors add weight-a detriment to agile handling-and their higher price tags are not offset by significantly improved fuel economy. Some examples of muscle-hybrid vehicles on the market today(or in the near future) include the BMW ActiveHybrid X6, Porsche Cayenne Hybrid, Honda CR-Z and Lexus GS 450h.

All hybrid vehicles, from mild to muscle, offer innovative dual-source powertrains that will continue to offer improved performance and efficiency with each subsequent generation. Cutting-edge hybrid technology promises to feature prominently in the near-term future of vehicle propulsion, as it satisfies the drivers seeking fuel economy and those desiring performance. The future looks very hopeful as today's powerplant engineers are only scratching the surface of hybrids capabilities.


For More Information: