New for 2010-Nissan Trucks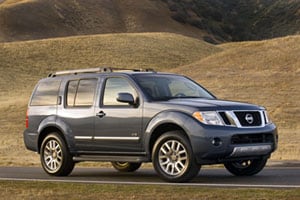 Critical Knowledge:2010 Armada:
The 8-passenger Armada SUV reconfigures its lineup and adds more standard appointments to the higher trim levels. New for 2010, Titanium and Platinum models receive standard leather, 20-inch wheels, Bose audio and more.
2010 Frontier:
Although it was extensively updated for 2009, the new model year brings the Frontier two new safety enhancements, a new transmission choice, and equipment changes.
2010 Pathfinder:
Nissan has reconfigured the Pathfinder's option packages and added a new exterior color for the new model year.
2010 Titan:
While it is older than most of its direct competition, the Titan receives a host of safety, equipment and audio updates for 2010, designed to keep it competitive within its segment.
2010 Xterra:
The truck-based SUV receives revised "X Gear" content as standard on two models (S and SE models), the Technology package is now standard (SE and OR models ), the 6-speed manual transmission has been dropped (S model), and there are six new exterior colors.
Next Page
Page 1 of 6