2010 Vehicle Dependability Study Results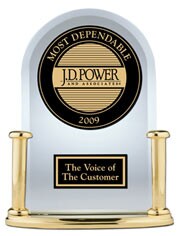 Understanding new-vehicle quality after 3 years of ownership
One way to gauge a vehicle's long-term dependability is to survey owners of 3-year-old models that were purchased new and ask them to identify problems that have arisen during the previous 12 months. Understanding owner-reported quality problems is one of the many inputs that automakers around the world use to improve vehicle quality and long-term dependability, and this is precisely what J.D. Power and Associates provides with its auto industry benchmark, the Vehicle Dependability Study (VDS).

Unlike the J.D. Power Initial Quality StudySM (IQS), which measures owner satisfaction after 90 days of ownership (and is a gauge of how well a vehicle has been put together during assembly), for VDS, original owners are asked whether they have experienced problems in any of nearly 200 different problem areas. The resulting information-straight from those who own and drive a particular model-is invaluable to consumers who use the study findings to help them make more-informed choices when considering both new and used vehicles. Consumers aren't the only ones paying close attention to VDS results-manufacturers also take note, as the study helps them design and build better models in the future.
| | |
| --- | --- |
| 2010 Most Dependable Vehicles Photo Gallery | |
| | |
| | |
| | |
According to the 2010 VDS, which measures problems experienced by original owners of 3-year-old (2007 model-year) vehicles, several long-term dependability trends have emerged. Among the key findings is that while long-term vehicle dependability continues to improve for the majority of automotive brands, for some brands owner perceptions have not kept pace with their vehicle's actual performance.

Several brands that performed well in the 2010 Vehicle Dependability Study-including Cadillac, Ford, Hyundai, Lincoln, and Mercury-are still trying to shake a perceived quality stigma, even though the study results speak otherwise. All of those brands finished above the industry average.

"Producing vehicles with world-class quality is just part of the battle for automakers; convincing consumers to believe in their quality is equally as important," said David Sargent, Vice President of Automotive Research at J.D. Power and Associates. "It takes considerable time to positively change consumer perceptions of quality and reliability-sometimes a decade or more-so it is vital for manufacturers to continually improve quality and also to convince consumers of these gains."

The 2010 VDS also finds that owners are replacing fewer broken vehicle parts-or components-compared to last year's study. Vehicle dependability is directly related to component replacement, so the news will be welcome news to owners and consumers, who may incur lower maintenance and repair costs, and to manufacturers, which will benefit from reduced warranty expenses.

Next Page
Page 1 of 3