2010 Wireless Customer Care Volume 1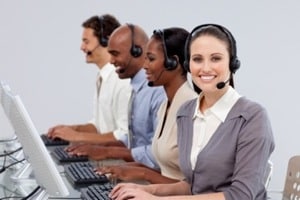 Whether you call them wireless phones, mobile phones or cellular phones, the small hand-held communication device has become an integral part of personal communication in modern society. Unlike most personal electronic devices like FM radios or iPods, wireless phones require individual contracts (or "service subscriptions") with a cellular provider. Worldwide, an estimated 4.6 billion consumers are currently contracted on a mobile cellular subscription-and that number continues to grow each day.
Today, there are four large wireless providers in the U.S. market, each now focusing more resources than ever on customer service in order to capture a larger share of the expanding market. The recently released
J.D. Power and Associates 2010 Wireless Customer Care Performance StudySM-Volume 1
provides insight into how well the nation's wireless carriers satisfy their customers' needs by focusing on three specific areas: telephone calls with live customer service representatives and/or automatic response systems (ARS); face-to-face visits to local retail wireless stores; and visiting the Web site of their wireless carrier.
Extended warranties and unlimited calling/data plans keep customers smiling
Whether it adds comfort and peace of mind, or it's just one less thing for phone users to worry about, the study demonstrates that consumers overwhelmingly score their carriers higher when they were under contracts with additional plan features such as extended warranties, unlimited calling plans, unlimited text plans and unlimited picture messaging-even though these premium packages added additional fees to their services.
"Additional plan options not only increase overall satisfaction by offering customers access to newer features, but they may also reduce the number and severity of problems customers experience that require contacting the carrier," said Kirk Parsons, senior director of wireless services at J.D. Power and Associates.
Unlimited use plans, for example, allow consumers to talk infinite hours for one low fee. These plans are credited with reducing the number of calls consumers make to their wireless provider about billing. The snowball effect of this is immediately felt as the volume of calls to customer service centers drops, freeing up the operators and reducing wait times for customers on hold. The calls are answered more quickly, and more complicated issues may be resolved with one single call (this is called "first-contact problem resolution" in the industry). Without a doubt, unlimited use plans are a win-win for both customers and wireless providers.
Customer care improves as first contact resolution increases, wait times decrease
According to the study, consumers rated their wireless carriers an average of 13 points higher than
the last time the study was conducted
, in August 2009. This improvement is likely credited to a focus by the wireless carriers to resolve issues during the customer's first contact-without requiring transfers to another operator-and provide shorter wait times while holding. In addition, respondents reported that more than 77 percent of calls to customer service representatives were resolved in one contact, compared to just 66 percent as reported in the
2009 Wireless Customer Care Volume 1
, conducted one year earlier. Also, phone "hold" times-another litmus test for customer satisfaction-have decreased to an average of 5.16 minutes from 6.58 minutes in 2009.
Next Page
Page 1 of 2