2011 Mini Cooper Roadster Concept Preview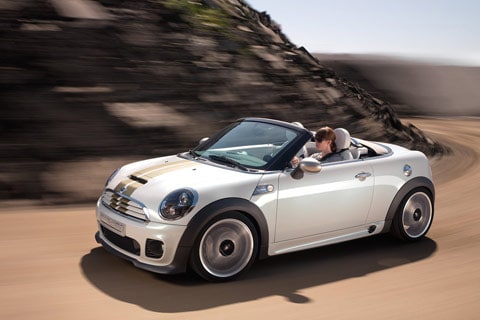 Critical Knowledge:
Based on the Mini Cooper S platform
Two-seat roadster with a cloth convertible roof
Shortened overhangs, steeply angled A-pillars, shorter height
175-hp, turbocharged 1.6-liter engine from the Cooper S model
Designed for performance and driving pleasure
Production planned for 2011
Introduction
Designed to be small and economical when it was introduced in 1959, the first Morris Mini-Minor maximized passenger and luggage space in a package just 10 feet long-it became affectionately known simply as the "Mini" worldwide. While it was undersized and rather slow (engine output was rated at just 34 hp), a light chassis with 10-inch wheels pushed to the furthest corners of the vehicle did offer one benefit-fun, go kart-like handling.
Today,
BMW
is the owner of the
MINI
brand (the automaker uses all capital letters to differentiate the new MINI from the old). Mixing updated chassis technology, modern safety advances and the original Mini's small-car formula, a brand-new 3-door hatchback Mini was
launched in 2001
(as a 2002 model). The success of the new Mini Cooper justified the launch of
Mini Cooper convertible
and
Mini Clubman
(wagon) variants, and the automaker recently showed the public its
upcoming crossover SUV
model.
August 2009 marked the 50th anniversary of the Mini brand. To celebrate, BMW introduced concept versions of a new Mini Roadster and
Mini Coupe
. Warmly received and appearing near-ready for production, the automaker announced production plans for both concept cars at the 2009 Frankfurt Motor Show the following month.
For More Information:
Next Page
Page 1 of 3