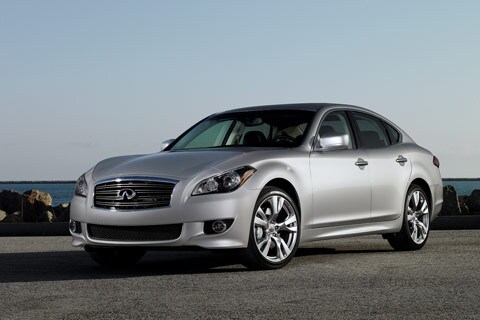 Critical Knowledge:
Infiniti's flagship sedan is all new for 2011
Four new models: M37, M37x, M56 and M56x
330-hp, 3.7-liter V-6 engine
420-hp, 5.6-liter V-8 engine
Rear- or all-wheel-drive powertrains
Eco Pedal driving mode designed to increase efficiency
Active Noise Control helps cancel undesirable engine harmonics for a quieter cabin
Blind Spot Intervention actively helps the driver steer the vehicle back into a safe lane
Available Sport package includes 4-wheel steering and 20-inch wheels
7-speed automatic transmission
Arrives in the spring of 2010
Introduction
Infiniti first introduced the "M" in 1990-the same year it debuted as an automotive brand. The 6-cylinder M30, a re-badged Nissan Leopard (available in coupe or convertible body styles), was sold for just three years in the U.S. until it was pulled from the lineup. In 2003,
Infiniti revived the M
with the introduction of the 8-cylinder M45, itself a re-badged Nissan Gloria. In 2006, Infiniti
launched the new "M"
, its first all-new, clean-sheet design built on Nissan's FM (Front Mid-ship) platform. The M was offered with a choice of 6- or 8-cylinder engines and a generous level of standard equipment. In 2008, Infiniti
gave the model a facelift
with revised exterior and interior styling, more available features, and the automaker added an all-wheel-drive option to the flagship M45.
The 2011 model year marks the debut of the all-new second-generation M-Series. Larger, more powerful, more luxuriously appointed, and more technically advanced than its predecessor, the new M-Series follows the same two-engine/two-driveline model pattern with a choice of 6-cylinder (M37) or 8-cylinder (M56) power. The standard powertrain is rear-wheel drive with an all-wheel-drive option available with both powerplants. The gasoline-powered 2011 M-Series models will be available in the spring of 2010. A hybrid model, still officially unannounced, is expected to follow in mid-2010.
For More Information:
Next Page
Page 1 of 3